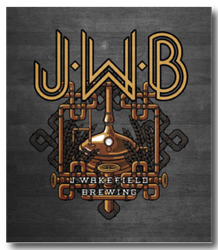 Twenty people will have the pleasure of a special dinner with some of Miami's hottest celebrity chefs.
Miami, FL (PRWEB) September 23, 2013
The J Wakfield Brewing crowdfunding campaign, being run on the crowdbrewed.com platform, is not only setting crowdfunding records, but is also offering some very unique perks for donors. The latest perk to be offered by the campaign is a full course dining experience with some of the hottest chefs in Miami.
Johnathan Wakefield's crowdfunding campaign began setting records within hours of the campaign start. The J Wakfield Brewing campaign blew through its original goal of $55,000 within a day and then surpassed $100,000 shortly thereafter. What makes Johnathan's crowdfunding campaign standout from the "pack" is the highly desirable perks (rewards) that Wakefield offers those who help to fund the brewery.
After quickly selling out of the "Membership Society" perks, Wakefield was able to reconnect with potential funders by offering one special "VIP for Life" perk. The perk was purchased within minutes, leaving everyone guessing as to what Wakefield's next great perk would appear. Supporters of the J Wakefield Brewing campaign need not wait any longer. Wakefield, who is apparently well liked and well connected, has arranged a dinner with some of Miami's hottest celebrity chefs.
Miami food lovers take note. According to the campaign website, there are only 20 seats available. The lucky 20 will be attending dinner with Chef Cory Lambert and Chef Piyarat Potha Arreeratn (Chef Bee), along with at least one additional chef who is yet to be named. The chefs will collaborate for an amazing dining experience that includes a 12-14 course beer dinner pairing great beers with delicious food.
Both chefs are certainly well known to the residents of Miami. Chef Cory Lambert is the previous Executive Chef at Swine Southern Table & Bar (voted 2013 "Best Restaurant in Coral Coral Gables", by Miami New Times). Lambert was raised in northern Florida and received a degree in culinary arts from Johnson & Wales University before working at several Miami restaurants like Pacific Time, Mark's, and Petrossian.
Chef Piyarat Potha Arreeratn, better known to Thai food fans as "Chef Bee", was previously Executive Chef serving Northern Thai cuisine at Khong River House, on Miami Beach. Chef Bee recently returned to Oishi Thai, the North Miami restaurant owned by his family, with speculation that he is planning to open a new restaurant in Coral Gables. In late 2013 while at Khong River House, FOOD & WINE celebrated the Miami chef as part of their annual program honoring the nation's top chefs.
It's recommended that Miami food lovers act quickly. There are only twenty seats available, and judging by how quickly Johnathan's perks sellout, they will not last long. The seats can be reserved by visiting the J Wakfield Brewing crowdfunding campaign.
About The Companies
CrowdBrewed.com is a donation / reward crowdfunding platform for craft brewers and industry affiliates who want to raise money for their breweries, to add new beers to their catalog, pitch a product and to spread the word to the "crowd". Brewers and industry affiliates can create fundraising campaigns that tell their story and pitch their campaign to a "crowd" of donors in exchange for a reward or product. CrowdBrewed is also a place to discover new beers, learn about brewing and show your passion for the industry by getting involved. USA TODAY has touted the company as "the first-ever crowdfunding site designed specifically for craft beer entrepreneurs."
Universal Media Consultants is an advertising and marketing agency that provides crowdfunding promotion. Philip Cardwell, the company's Founder, is highly active in the crowdfunding space and is providing advertising and marketing services to a wide range of crowdfunding projects at no initial costs to the client.