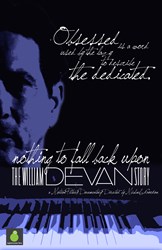 The story of world renowned concert pianist William DeVan through the eyes of his students: world famous industry power brokers, socialites, conductors and composers.
Birmingham, AL (PRWEB) January 14, 2014
Bigfatmonster Films has launched its first crowdfunding film campaign on Indiegogo this morning. The film is a feature length documentary titled, "Nothing to Fall Back Upon" and is about the life of world-renowned concert pianist William DeVan.
According to director Michael Gordon, "It is the tale of a life in music, the tale of a man who is, without question, one of the world's greatest piano players of whom you've probably never heard."
Traversing multiple countries - Nothing To Fall Back Upon - tells the story of world renowned concert pianist William DeVan through the eyes of his students: world famous industry power brokers, socialites, conductors and composers. Included are BAFTA award winning composer and owner of Nightbird Studios in Beverly Hills, Jed Leiber; Classical Conductor and Dean of Music at Bard College, James Bagwell; Socialite Patron of the Arts and Fashion Designer Christophe DeMenil; as well as a number of other friends and students of William's who are equally impressive and engaging.
The crowdfunding campaign exists for one sole purpose: to tell the world about this amazing musician and the fascinating personalities that William has come to know. The Indiegogo campaign will end on January 29th.
William DeVan received his Bachelors and Masters degrees from The Juilliard School, where he studied with Ania Dorfmann. He continued his studies with Hans Leygraf at the Staatliche Hoch- schule für Musik und Theater in Hannover, Germany, and he received the Konzertexamen Diploma in 1979. He was also a student of Jeaneane Dowis in New York City and Aspen.
DeVan has won numerous awards and has appeared in concerts around the world. After winning first prize in the international piano competition "Vianna da Motta" in Lisbon, Portugal in 1975, DeVan launched into a series of worldwide recitals and teaching classes. In 1980 DeVan was named head of the piano faculty at Birmingham-Southern College. DeVan has won two Mellon Foundation grants, he is co-author of Schumann: Solo Piano Literature, a comprehensive guide to the piano works of Robert Schumann.
DeVan holds the prestigious distinction of being one of twelve "Steinway Presenters" in the world.
"He has a highly developed sensitivity to the tonal resources of the piano, a relaxed wrist, digital dexterity and rhythmic acuity," said Edward Rothstein, The New York Times.
Director Michael Gordon believes that everyone with a love for music, a love for piano or a love for beauty, will certainly want to contribute to helping this amazing story reach the screen.
To view William DeVan playing and for more information on this crowdfunding campaign, please visit: http://www.indiegogo.com/projects/nothing-to-fall-back-upon-the-william-devan-story.
About the companies:
BIGFATMONSTER FILMS is a full service digital cinema production company. The company is dedicated to developing new and creative avenues for independent film creation and distribution. In 2010, the company decided that new technology has presented the film industry with a unique opportunity to produce and distribute films, and reach broad audiences in ways never before imagined. In-house services include, writing, directing, producing, music creation, audio, colorization, titling, effects, and fund sourcing.
CROWDFUNDING ACCELERATOR is a professional, creative team of crowdfunding campaign management, marketing, PR and advertising specialists. Crowdfunding Accelerator personnel have a combined 19 years of experience producing high-quality crowdsourcing and crowdfunding campaigns of every type and scale for small businesses and large enterprises. The company's passion is managing the behind-the-scenes details to deliver a superior campaign experience for your audience. The principle founders of the company are Philip Cardwell (of Universal Media Consultants) and John-Michael Scott (of IndieFund.it).