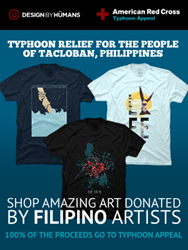 We donated our artwork because we know, in this little way, we can support or help the people in need here in our country. - Manning (Dzeri29)
Chico, Ca (PRWEB) November 15, 2013
Local web-based company Design By Humans (DBH) utilizes its audience and artists to create tees with a purpose. Together with Philippine artists, DBH has created an opportunity for customers to purchase graphic t-shirts designed and donated by local Filipino and contributing artists. All 100% of the proceeds sold through the HaiyanRelief Collective Store will be donated to the American Red Cross Typhoon Relief.
"Our hearts go out to those affected by the destructive Super Typhoon Haiyan and despite the geographic space that separates us all, now is the time to come together," said DBH Managing Partner Jeff Sierra. "As the days pass we have the opportunity to unite as humans to show our support for those in need, to help them gather the strength to heal and rebuild." With the help of Design By Humans artists, they have done just that by creating a DBH Collective store whose proceeds will support the relief effort in Tacloban, Philippines. Participating artists who are closest to the devastation such as Pinkstorm, Zerobriant, Song, DesignsbyReg and Qimstudio have all volunteered to donate their time, art, and money through royalties. DBH will also be donating the remaining percentage of the proceeds, making this a very worthy venture.
With over 300,000 people left without food, shelter, and medical attention, Filipino artist Jerry Manning (Dzeri29) said, "even though we know this is the biggest typhoon to hit this area, we never thought in just hours it would destroy so many lives and displace so many families." After the typhoon hit, local Filipino artists chose to unite through art to give back and support the relief efforts. "We donated our artwork because we know, in this little way, we can support or help the people in need here in our country," stated Manning. Dzeri29's t-shirt artwork and that of many other Filipino artists can be found at the Haiyan Relief Collective Store. Here, money for every item purchased will be going directly to the American Red Cross Typhoon Appeal, helping provide relief for those in need in the Philippines.
Design By Humans hopes to inspire life and strengthen humanity through this initiative, and would like to encourage each and every individual to join them in spreading the word to help our fellow humans.
About Design By Humans
Design By Humans was started in 2007 with the simple vision of bringing artists from around the globe together to give them a platform to produce wearable art that tells a story, strengthens humanity and inspires life through creativity and design. The DBH Collective initiative is inspiring amazing artists and giving them a unique foundation to share artwork through a personal online storefront.
###
If you'd like more information about this topic, or to schedule an interview with Jeff Sierra, please call +855 333 9836 x 302 or email press(at)designbyhumans(dot)com.