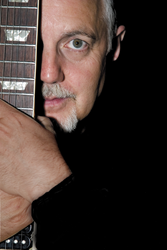 Bryan Duncan has always had a great voice and his songs are full of passion, purpose and playfulness
Seattle, WA (PRWEB) April 24, 2014
Award-winning producer and journalist Christopher Redner interviewed renowned guitarist Phil Keaggy about working with legendary vocalist Bryan Duncan. Redner released an excerpt of the interview on YouTube.
Phil Keaggy is perhaps one of the most admired guitarists in music today. He has frequently been listed as one of the world's top-three "finger-style", as well as "finger-picking", guitarists by Guitar Player Magazine readers' polls.
Keaggy released a statement in support of legendary vocalist Bryan Duncan's crowdfunding campaign to record an album.
"Bryan has always had a great voice and his songs are full of passion, purpose and playfulness," say Keaggy. "It is my hope that his friends and fans will continue to rally in helping him with support for his new studio album."
Keaggy co-wrote two songs on Bryan Duncan's critically-acclaimed Conversations album. Shortly after writing Little Bit At A Time Keaggy and Duncan performed it unrehearsed when Duncan showed up unannounced at Keaggy's concert. Their playful performance of the song is a popular YouTube video.
Duncan also released an unplugged performance of the song on on YouTube and Vimeo. Duncan recorded the video live, unplugged style, at Palmtree Productions' 4,000-square-foot facility in Tupelo, Mississippi. Palmtree Productions, Inc. is an award-winning video production company specializing in music videos, commercials and corporate videos.
"We've always been huge fans of Bryan Duncan," says Anne Palmer, Producer and Palmtree Productions President. "We were very excited when Christopher Redner contacted us about the opportunity to work with Bryan on a video for his Conversations album! Bryan traveled to our studio to record unplugged versions of some of the songs from his new album with Tupelo-area musicians. It was a pleasure watching Bryan perform and interact with everyone, including many he'd never met until that day."
"Bryan's professionalism, amazing voice and great sense of humor made it a fun and rewarding experience for us."
Duncan has released 14 solo albums, three with the NehoSoul Band and seven with the Sweet Comfort Band. His recordings have been celebrated with four Dove Awards and one Grammy Award. He has sold in excess of 1.2 million records and had 16 No. 1 radio hits.
Duncan uses social media and crowdfunding to fuel a new business model that allows him to connect directly with his audience, bypassing traditional record labels. Duncan has the creative freedom of an independent artist but is still able to compete with the big record companies for radio airplay and media coverage.
Keaggy's solo career has spanned more than 30 years, and has included over 50 solo albums, both vocal and instrumental, as well as 8 releases with his band, Glass Harp. One of the most sought after studio guitarists, Phil also continues to sell out concerts all over the United States, with his ever-changing style, ranging from rock-and-roll to fully orchestrated instrumental compositions.
Born on March 23, 1951 in Youngstown, OH, the ninth of ten children, Phil Keaggy grew up in a home filled with music. On Keaggy's 10th birthday, his brother, Dave returned home with a Sears Silvertone guitar. That's when the magic began.
Keaggy spent most of his younger days involved in music, and at the young age of 13, he joined his very first band, the Keytones. He later went on to join such local groups as The Vertices, The Squires, and the Volume Four, who later changed their name to New Hudson Exit.
But it wasn't until 1970, when Keaggy's band Glass Harp (with childhood friend John Sferra on drums, and Dan Pecchio on bass) recorded their self-titled first album that people really began to take notice of this incredibly gifted guitar player. Glass Harp gained more popularity in the Ohio area, opening for such bands as the Kinks and Yes, and even performing at the prestigious Carnegie Hall in New York City. Over the next few years, they recorded two more albums entitled "Synergy" and "It Makes Me Glad".By 1972, Keaggy saw his life going in a different direction, and made the tough decision to leave Glass Harp and pursue a solo career. His first solo album, "What A Day", was recorded in just a week's time during January 1973. He married his sweetheart Bernadette that summer, and the following year, they moved to Upstate New York and joined a Church community called Love Inn.
During his years there, Keaggy took a break from recording his own music. It wasn't until three years later in 1976 that he would record his second solo album, "Love Broke Through", which was soon followed by a string of albums, including the acclaimed instrumental album, "The Master And The Musician".
With the Christian Music industry really beginning to grow, Keaggy won his very first Dove award in 1988 for his instrumental album, "The Wind and the Wheat. His second Dove Award came in 1992 for his Celtic-influenced, "Beyond Nature". Each year from 1998 to 2001, Keaggy has dominated the "Instrumental Record" category at the Doves, winning for "Invention", "Acoustic Sketches", "Majesty and Wonder", and most recently "Lights of Madrid". For three years in a row, Keaggy was voted one of the top fingerstyle guitarists by Guitar Player Magazine readers.