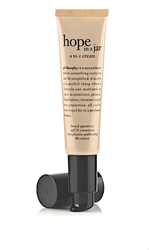 leaves skin looking glowy and moisturized, not heavy and greasy. And it's suitable for all skin types.
New York, New York (PRWEB) August 20, 2013
In a beauty world full of BB and CC creams, philosophy has finally released their own that combines skincare benefits and the cosmetic functionality of camouflaging imperfections with Philosophy Hope in a Jar A to Z complexion perfecting bb cream with SPF 20.
This multitasking Hope in a Jar A to Z bb cream is a one-step complexion perfector that acts as a primer, moisturizer, anti-aging treatment, foundation and sunscreen. Available in three shades (Light, Medium and Tan to Deep), this oil-free and fragrance-free hope in a jar a to z bb cream provides skin-nourishing ingredients like lactic acid to refine the skin, beta-glucan to support skin's natural defense system and vitamins A, C and E for overall skin health.
BeautyStat's Managing Editor Theresa Romano said that it leaves skin, "looking glowy and felt moisturized, not heavy and greasy. And it's suitable for all skin types..." BeautyStat.com is celebrating the release of the do-it-all hope in a jar a to z bb cream by giving away 10 full-sized tubes to readers.
All BeautyStat fans have to do is re-tweet the giveaway post on Twitter using the hashtag #HopeInAJar, let BeautyStat know which shade would suit one's particular skintone and make sure to address which A to Z skincare concern (provided by philosophy) is most important.
See full details by clicking here >> philosophy bb cream review.
BeautyStat.com (a NYC tech startup) is an the leading online beauty community for skincare reviews and makeup reviews and social marketing agency for the beauty industry. It has been featured in Womens Wear Daily, New York Times, Forbes Magazine, NBC and CBS News. The strength of BeautyStat.com is its captive, engaged and influential 200,000+ community, 190+ blogger network and 40 million social network reach. BeautyStat.com works with beauty brands, retailers and PR agencies to connect them to the BeautyStat community for online PR events, advertising and rich consumer insights.
BeautyStat.com was founded by beauty entrepreneur Ron Robinson. Ron is a veteran cosmetic chemist who has worked for such leading beauty companies as The Estée Lauder Companies, L'Oreal, Avon Products and Revlon Products. Ron is currently a resident beauty expert for Allure magazine.