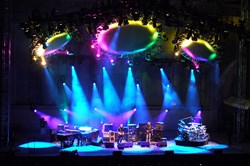 (PRWEB) October 20, 2013
The American rock band Phish is one of the most popular and successful live acts in music history. Their live performances have somehow become far more popular than their album sales or radio play. Experiencing a live Phish concert is something all music fans should do, as they are one of the most well-known and popular shows all over the world. Fans can find their Phish tickets at http://www.Ticketmonster.com, the number one stop for concert tickets.
Back in July of this year, Phish announced a small series of concert dates for the Fall. They started their tour two days ago at the Hampton Coliseum in Hampton Virginia for a three nightstand. Tomorrow they will make their way to Rochester and Glens Falls, New York, to play at the Blue Cross Arena, as well as the Glens Falls Civic Center.
This famous rock group will then close out their tour with shows in Massachusetts, Connecticut, Pennsylvania, and finally New Jersey. Their last three shows, scheduled on October 31st, November 1, and November 2nd, will serve as their musical costume shows. For those who are unaware, "Musical Costume" serves as the term used to describe Phish's Halloween concert performances. During the show, the band will be wearing decorative Halloween costumes while performing the music from another band's entire album. Some popular bands they have covered include Pink Floyd, The The Beatles, The Velvet Underground, and the Rolling Stones, as well as many more. There may not be a better way to celebrate this year's All Hallow's eve.
After Phish finishes up their Fall tour, they will take a short break before a New Year's run to close out 2013. The band will perform live at Madison Square Garden in New York City on December 28th, 29th, 30, and 31st. New York City is a common place for Phish to perform, as to date they have played at Madison Square Garden twenty seven times, all since 1994. Will you be sitting at home on this New Year's Eve, or will you be at the greatest city on Earth watching Phish ring in the New Year? You can find your answer at http://www.Ticketmonster.com.
Ticket Monster serves as the number one spot on the web to find tickets to see all your favorite bands perform, especially Phish this Fall and Winter. When tickets are sold out on other sites, fans can be sure Ticket Monster still has those tickets available. Ticket Monster offers the best prices on the web for concert tickets, and will never charge and service fees. Visit the site today, or call 866-217-4777 for more detail.