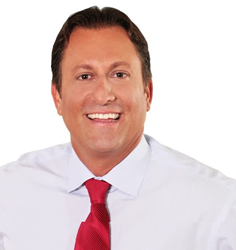 I could not do what I do for the community without the unselfish support and commitment of the entire Lerner and Rowe family. - Attorney Kevin Rowe
Phoenix, AZ (PRWEB) October 22, 2013
Attorney Kevin Rowe humbly accepted accolades of gratitude and appreciation on behalf of the Lerner and Rowe Gives Back Foundation and himself from Phoenix Rescue Mission (PRM) for supporting the mission's 2013 Code Red Heat Relief Campaign. Thanks to the unselfish commitment and support from the entire Lerner and Rowe family and many other community partners, PRM was able to assist the homeless and hungry during the scorching 2013 summer months by providing bottles of water, Hope Tote personal hygiene / sun relief packs and sack meals.
"Attorney Kevin Rowe has been such a blessing to Phoenix Rescue Mission. The Lerner & Rowe Gives Back foundation was PRM's largest single financial contributor to the Code Red Summer Relief Program," said Phoenix Rescue Mission's Major Gifts Officer Mark Tullis. "Their generosity allowed Phoenix Rescue Mission to give comfort to so many on the street during our brutal summer temperatures. They definitely helped us SAVE LIVES."
The Arizona personal injury, bankruptcy and criminal defense law firms of Lerner and Rowe, P.C., hosted donation centers at four of their locations to collect bottled water and other heat-relief items throughout the summer. This was their third year to partner with PRM's summer heat relief efforts.
More about Phoenix Rescue Mission
Phoenix Rescue Mission provides Christ-centered, life-transforming solutions to people facing hunger and homelessness. The non-profit Mission, which has been operating since 1952, is asking the public for support of its many programs designed to save lives, including Hope Coach Street Outreach, Homeless Emergency Services, Men's Addiction Recovery Program and the new Changing Lives Center for Women and Children. For a complete list of items needed and drop-off locations throughout the Valley, visit http://www.phoenixrescuemission.org or call (602) 346-3332.
More about Lerner and Rowe Gives Back
Lerner and Rowe Gives Back is a nonprofit organization founded by Kevin Rowe, managing partner of Lerner and Rowe Injury Attorney and Lerner and Rowe Law Group. The organization believes in paying forward the law firm's achievements and successes by assisting other community organizations that serve children and families struggling from economic occurrences. Organizations they work with advocate for the improvement of children facing poverty, illness, disease and other areas of need. In addition to children in need, they support groups that touch the lives of the hungry, homeless, sick and abused, and even our four-legged friends. For more details about their nonprofit organization visit LernerandRoweGivesBack.com.
For more details about the law firms, visit lernerandrowe.com or lernerandrowelawgroup.com. For current updates, follow them on Twitter (twitter.com/lernerandrowe) or Facebook (facebook.com/LernerandRowe).
###