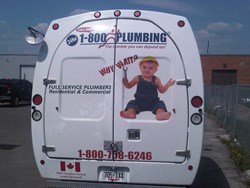 Marketing and advertising works better when customers remember your number instantly.
Phoenix, AZ (PRWEB) August 28, 2013
Mark Carrasco of RAM Plumbing has been in the plumbing business since 1983. His father Ramon Carrasco started a family business in 1983 and in 2013 the Phoenix office was launched. The company runs 4 service trucks and has done mostly commercial accounts.
The company has goals to increase residential emergency repair and get into water filtration in both the residential and commercial sectors. Other specialties include underground boring, electronic leak detection, sewer video inspection, hydro-jetting and methane gas detection.
By utilizing the "1-800-PLUMBING" brand on all business cards, water heater stickers, commercial marketing packets, truck wrap, uniforms and marketing, Ram Plumbing will build a powerful presence in the Phoenix Market. The 1-800-PLUMBING number will also be incorporated into both Google and local advertisements.
Ram Plumbing offers a minimum of a 3 year warranty on all labor performed. This truly sets them apart from the competition, because that is unprecedented in the industry. All employees are drug and background screened once per year as a requirement of government contracts.
Ram Plumbing gives back to the community in several ways. The company sponsors a 10 person team to participate in the Pat Tillman Run. The company's favorite donation every year is up to $1000 of free plumbing service to a family in need who cannot afford the emergency repair. The decision who is chosen is made collectively as a company including dispatch, service techs and owners.
Ram Plumbing offers no obligation on site free estimates. Service techs will offer several options with the unique flat rate book. Ram Plumbing developed this system called Mr. Pricebook which benefits both the customer and the plumber.
Estimates are guaranteed not to exceed the quoted price for the services.
Ram Plumbings' consumer tip is to flush all water heaters once per year and check/service the anode rod. Oh and one more tip: If you need a great plumber in the Phoenix area, call Ram Plumbing at: 1-800-PLUMBING (1-800-758-6246).