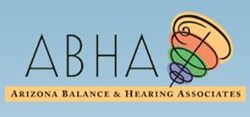 Phoenix, AZ (PRWEB) October 23, 2013
Arizona Balance & Hearing Associates has launched a blog on the practice website to share hearing health advice and tips with local residents on a regular basis.
The newly created blog section will showcase weekly posts from Dr. Dana Day and the other audiologists at Arizona Balance & Hearing Associates and will address a diverse assortment of themes such as the latest advances in hearing restoration research, new tinnitus treatment approaches, and answers to frequently asked questions such as how to shop for a hearing aid. The audiologists intend to publish a brand new article on the blog about once per week. Articles published to the blog will also be offered via Arizona Balance & Hearing Associates' Twitter and Facebook accounts. The RSS feed will conveniently syndicate all new content.
Arizona Balance & Hearing Associates is encouraging everyone who wears hearing aids in Phoenix as well as all former and current patients to visit the blog regularly. Currently, the blog only contains a handful of articles, but it will expand rapidly over time. Here are just a few examples of articles already published:
Shocking Hearing Loss Stats and Data
Overview of the 5 Primary Forms of Hearing Loss
What Nutrients and Foods Can Help Support Healthy Hearing?
Directions for Do-it-Yourself Ear Cleaning and Wax Removal
A Review of Common Hearing Aid Battery Types
To be responsive to the needs of Phoenix-area residents, Arizona Balance & Hearing Associates encourages anyone with hearing loss or who wears hearing aids in Phoenix to submit additional category or topic suggestions.
About Arizona Balance & Hearing Associates (ABHA)
Well established throughout the Greater Phoenix area and beyond, ABHA offers world class clinical services in hearing and balance (vestibular) testing, pediatrics, and neurodiagnostics. There are three A.S.H.A.-certified audiologists on site.
Founded back in 1995, Arizona Balance & Hearing operated as the outpatient Balance and Hearing Center on the campus of St. Joseph's Hospital and Medical Center. In January 2004, office expansion caused them to relocate across the street from St. Joe's. ABHA still enjoys a strong professional working relationship with St. Joseph's and the Barrow Neurological Institute, as well as the majority of Neuro-Otologists, Oto-Neurologists, Otolaryngologists (Ear, Nose and Throat), Internal Medicine practitioners and Pediatricians in the area.
Contact:
Dr. Dana Day, Au.D.
Arizona Balance & Hearing Associates
333 W. Thomas Rd., Ste 207
Phoenix, AZ 85013
(602) 281-4095