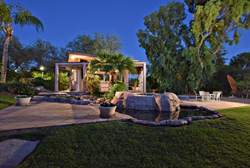 Phoenix, AZ (PRWEB) November 17, 2015
Those in the market for a luxury residential estate will be excited to learn that Green Bay-based online real estate auction firm Micoley.com will be auctioning a stunning Phoenix property on December 2 as part of its major quarter 4 event that features properties from around the nation. Whether it be a search for a new place to call home, or an addition to a luxury portfolio, this property would be a perfect fit for both.
Originally constructed in 1956, the three houses included on the property are located on 2.5 acres of luxuriously landscaped Arizona land. The main dwelling consists of 4,308 square feet of space and has 2 bedrooms, a den, 3.5 bathrooms, a 3-car garage, plus a carport. The property also includes two guest houses: The first offers 800 square feet, 2 bedrooms, a bathroom, a kitchen, and a living room; the second is a bit larger, offering 1,286 square feet, 1 bedroom, 1 bathroom, a great room, and a 2-car garage.
Also on the premises: a library with 313 square feet of space, a bathroom, and additional parking for 2 more vehicles; a separate home office with 743 square feet of space, a bathroom, and 2 large storage closets; an outdoor kitchen with a Viking range; a pool; a pond; a spa; a tennis court; a 26 feet by 26 feet Ramada; and a botanical garage with over 300 varietals.
Micoley.com founder & CEO Wade T. Micoley describes the property as "absolutely idyllic -- a magnificent piece of land in a beautiful part of the country. The close proximity to downtown Phoenix and Scottsdale means there is a terrific amount of activities to take part in, as well. Plus, the two guest houses included on the property allow for tremendous flexibility in living situations and even open the door to simultaneous renting, as well. This is simply one of the most exciting properties we have the privilege to help find a new owner."
The property is listed at $2,275,000 with an opening bid of $1,325,000 if no offer is received by the December 2 auction. The address is 3714 E Orange Drive Phoenix, AZ 85018.
The highly motivated sellers of this property have indicated that they plan to entertain early bids and offers. Buyers are most likely already researching this property, and coming to decisions about whether to make a purchase, so potential buyers are advised to act fast.
Interested parties should visit micoley.com to find more photos and details about the property, or visit in person and perform an inspection on site, which is highly recommended. (866) 371-3619 is Micoley.com's information line. Additionally, Micoley.com features a live chat service through which questions can be answered.
About Micoley.com:
Green Bay, Wisconsin-based Micoley.com is a real estate marketing firm specializing in project focused auctions and sales events of bank-owned and traditionally listed Real Estate throughout the United States. The Micoley.com approach to Real Estate marketing tailors each auction plan to the client's individual needs. The site is constantly being updated for the benefit of buyers, as large-scale auction events are held every two months, and new properties are added daily.