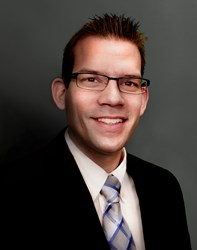 Dr. Wuollet offers both medication management and interventional pain treatments as a compassionate, highly skilled pain doctor at Arizona Pain Specialists.
Phoenix, Arizona (PRWEB) November 18, 2013
The top Phoenix pain management clinics, Arizona Pain Specialists, have added a new pain doctor. Dr. Adam Wuollet is a Board Certified, Fellowship Trained Phoenix pain management doctor who offers comprehensive pain treatment options. This includes options for both medication management and interventional pain treatments. New patients are being scheduled now at (602) 507-6550.
Dr. Wuollet is highly skilled and compassionate. By having a plethora of available options for treatment, he is able to individualize treatments and achieve a high level of nonoperative success.
Dr. Wuollet offers contemporary, cutting edge options for pain relief. These include spinal cord stimulator implants, radiofrequency ablation, multiple types of epidural injections, stem cell injections, platelet rich plasma therapy and all types of joint injections.
Both simple and complicated pain conditions are treated including sciatica, back sprains and strains, vertebral compression fractures, degenerative disc disease, scoliosis, headaches, migraines, whiplash and more.
For five straight years, Arizona Pain Specialists has won the Patients Choice Award. This highly coveted award is received by less than 5% of doctors. To receive it 5 years in a row is truly impressive.
Arizona Pain Specialists offers 5 Phoenix pain clinics with locations in Chandler, Scottsdale, Glendale, Surprise, and North Phoenix. Over 50 insurances are accepted at the locations, and each Arizona pain center has chiropractic doctors along with Board Certified pain management doctors in Arizona.
In order to obtain treatment with Dr. Wuollet or any of the Board Certified pain doctors throughout the Valley, call (602) 507-6550.