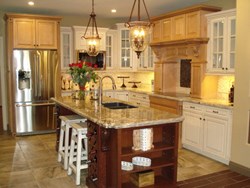 Our design showroom takes the guesswork out of home remodeling and design.
Phoenix, AZ (PRWEB) December 11, 2013
While some homeowners undertake remodeling projects for the express purpose of boosting the value of their home in an expanding housing market, most people do it to increase the beauty, comfort and functionality of their home. Whether you are wanting to create an oasis in the master bath or a lovely area to entertain guests, homeowners ultimately want to a create living space to fall in love with.
In today's housing market, there is a never ending array of options available to homeowners in terms of flooring, tile, cabinetry, finishing materials and more. With so many possibilities it can become over whelming and even hard to visualize the final result. A paint chip, tile or fabric swatch just isn't always enough to help homeowners make good remodeling decisions.
For this very reason, the Phoenix home remodeling company TWD (Todd Whittaker Drywall Inc.) has just opened up their new full home design showroom showcasing a wide variety of home remodeling and design styles, finishes, and options for every room of your home. They want to work with homeowners to bring their vision to life, so that they fall in love with their home again.
"No matter what your style, there will definitely be something that you will want in your home the minute you walk in the door," says Ron LaBrie, Design Manager. "We have designed it to feel as if you are walking into a home with Living Room settings, Kitchen options, multiple Bathroom vignettes and more."
Having a showroom of this caliber on the West Valley takes the guesswork and stress out of the home remodeling process. TWD clients do not have to spend countless hours trying to imagine what a particular option or color choice may look like. With a visit to the showroom, their clients can be interactive in choosing the perfect color and texture for their floor tile, counter top slabs, cabinetry color and style to match that paint scheme they have always imagined, and be able to see it in a life-sized display. Clients can make an appointment with the TWD design team in the showroom, pick their options, and walk out the same day with the full confidence that TWD will take care of everything.
"Most people tend to view remodeling as stressful," Todd Whittaker says. "Our goal is to make it as easy and stress-free as possible. The new TWD showroom definitely puts the fun back into remodeling."
Visitors can make an appointment to visit the TWD Showroom during business hours at 9201 W. Grand Avenue in Peoria, or follow their Facebook page to be the first to hear about TWD's customer appreciation day and other upcoming events: http://www.FaceBook.com/ToddWhittakerDrywall.
About TWD
TWD is a full-service home remodeling company specializing in kitchen, bathroom, living room and master suite remodeling, as well as room additions, patios, media walls and garage extensions. They've been serving the greater Phoenix area since 1996. To learn more about the 'TWD Difference' and what they can do for you, visit them online at http://www.twdaz.com/ or give them a call today at 623.544.1211 to schedule your free appointment.
###