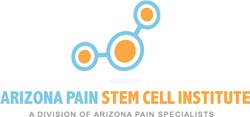 The research subsidized stem cell treatments at Arizona Pain allow patients to receive stem cell therapy at a significantly lower cost than at other clinics!
Phoenix, AZ (PRWEB) November 07, 2013
The Arizona Pain Stem Cell Institute is now offering research subsidized stem cell therapy for spinal and joint arthritis along with tendon and ligament injuries. The stem cell research studies allow patients to receive treatment at a significantly lower cost than is available at most other clinics. The treatments are provided by Double Board Certified Phoenix pain management doctors, with easy scheduling at (602) 507-6550.
Regenerative medicine with Phoenix stem cell injections provides patients with the potential to not only reduce pain significantly, but also alter the course of arthritis or tendonitis. This may include spinal arthritis, stem cells for knee arthritis, rotator cuff tears, achilles tendonitis, tennis elbow and more.
The stem cell therapy studies involve treatments with fat or bone marrow derived stem cells, amniotic derived stem cells or platelet rich plasma therapy. The studies are prospective but not randomized, so each patient receives the stem cell therapy and not a control.
The Arizona Pain Stem Cell Institute is a leader in stem cell therapy, with the AZ pain center doctors providing the treatments as an outpatient. They have very low risk, with initial published studies showing significant benefit for both arthritis and the soft tissue injuries.
For enrollment and scheduling for Phoenix stem cell treatment, call (602) 507-6550.