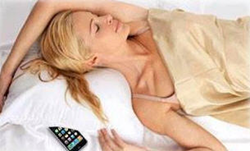 If you or your children are using a smartphone at night for its clock or alarm features, consider putting it in "airplane mode" which suspends the phone's transmission functions which eliminates microwave radiation exposure
New York, NY (PRWEB) March 25, 2014
RF Safe the world's leading provider of information and products for reducing exposure to cell phone radiation has issued a consumer warning that sleeping with your smartphone can effect brain activity and potentially increase the risk of neurological diseases or cancers.
RF Safe offers several well proven ways to reduce cell phone radiation when carrying a cellphone in a pocket or purse. Smartphone flip case shields and pocket shields preform outstanding for shielding the body. RF Safe headsets with patented sound chamber air-tube technology prevents the brain from getting exposed to excessive microwave radiation when using a smartphone to play music or have a private phone conversation.
Founder of RF Safe, John Coates says "Rf Safe cell phone accessories are designed to reduce radiation exposure under normal usage conditions, sleeping with a cell phone under a pillow has become very common, but shouldn't be accepted as normal even if it does have an alarm clock"
Joel Moskowitz, PhD, director of the Center for Family and Community Health at UC Berkeley's School of Public Health has suggested that it is best not to let kids sleep with their phones under their pillows and advises against carrying cell phones in front pockets, due to possible radiation exposure to the reproductive system.
According to RF Safe there are no safety accessories designed to replace a good nights sleep without any exposure to cell phone or wifi radiation.
Coates says "If you or your children are using a smartphone at night for its clock or alarm features, consider putting it in "airplane mode" which suspends the phone's transmission functions which eliminates microwave radiation exposure while asleep"
In our hyper-connected world some people may find it imposable because of circumstances to have their phone off all night, and in that case RF safe suggest the phone is at least 6 feet from your bed.
Coates acknowledges this distance makes it harder to hit snooze, but "it's time to get up anyway" he says.
Cell phone users need to take simple precautions that can reduce RF exposure in the rooms where people spend the most time in—the bedrooms and family rooms.
RF Safe says that several steps can be taken to reduce exposure at home, like removing Wi-Fi and cordless phone chargers from bedrooms. Cordless phone chargers emit radio frequency power even when not in use. Evidence suggest pulsed digital signals can be more damaging than analog signals, and they should not be anywhere near the head of the bed. Further more baby monitors should not be placed closer than 6 feet to a crib. The key to RF Safety at home is distance from the source of radiation.
Paul J. Rosch, MD, clinical professor of medicine and psychiatry at New York Medical College and emeritus member of The Bioelectromagnetics Society says "Children are more severely affected because their brains are developing and their skulls are thinner. A two-minute call can alter brain function in a child for an hour, which is why other countries ban or discourage mobile phone use under the age of 18."
To stay up-to-date on the hazards of cell phone radiation and the best solutions for cell phone radiation safety visit http://www.rfsafe.com