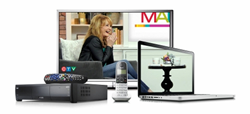 SolveForce Expands Internet & Phone Bundling services into Raleigh, NC & Provo, UT
Provo, UT (PRWEB) July 08, 2016
SolveForce's Nationwide campaign expansion brings them to Raleigh, NC & Provo, UT offering bundling internet, phone & television (http://solveforce.com) services. This expansion is part of an ongoing marketing campaign to introduce residential & commercial businesses to cost saving bundling services.
Many consumers with phone, internet and television connections currently pay a separate bill for each of the services.
However, it is growing more common for cable and internet providers to offer service bundling opportunities. These packages are commonly referred to as double and triple plays. Increased popularity in bundles is a result of a combination of financial savings and convenience. Here is a list of some pros and cons to consider before talking to a service provider about bundling bundle phone, television and internet.
Pros to Bundling Phone, Cable and Internet
There quite a few advantages that come with Internet & Phone Bundling (http://solveforce.com/services/). One of the biggest perks for consumers is the convenience of paying a single bill. Many consumers also like the fact that they only have one phone number to call for technical issues and billing.
Also noteworthy is the financial savings. It is common for consumers to save hundreds of dollars a year with bundling, as opposed to purchasing them individually.
Many consumers feel that it is much easier to shop for three services at once, opposed to looking at each service individually. This ultimately saves the consumer time.
Bills also remain fairly consistent over the contract period. The introductory pricing that many companies offer is a great way to create long-term customers. Numerous studies by Consumer Reports indicate that consumers prefer to bundle services.
Cons to Bundling Phone, Cable, and Internet
If there is an outage in the area, consumers may lose all three services for a short amount of time. This can have a large impact on the day if relying on them for work, for example.
When choosing to bundle cable, internet and phone, switching service providers may be difficult, especially if anyone signs a long-term contract. Many contracts last up to two years, and there are often hefty fines if a customer needs to break the contract. Be sure to talk to your provider about these factors before agreeing on a contract.
Is Bundling Right for the consumer?
Even though there are advantages and disadvantages that come with bundling services, consumers should make a decision based on their own particular needs. Look closely at the budget and service needs, and then talk to a representative who can discuss the options and address any questions that someone may have.
To learn more about SolveForce Internet & Phone Bundle (http://solveforce.com/services/) services, visit SolveForce.com.
About SolveForce
We are committed to a customers company in every aspect of the customer relationship. If a customers company needs to contact us for any reason, please don't hesitate to call or email us at the earliest convenience.
By Phone: (888) 765-8301
By Email: ron(at)SolveForce (dot)com
By Website: http://www.SolveForce.com