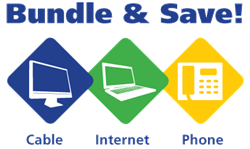 SolveForce Now Offers Internet & Phone Bundle Services to Cobb & Gwinnett County, Georgia
Gwinnett, Georgia (PRWEB) May 31, 2016
SolveForce.com contracts with 4 additional Internet & Phone Bundle (http://solveforce.com) Affiliates for immediate marketing expansion into Cobb & Gwinnett County Georgia.
Bundling is an option with many service providers that allows consumers to combine several different services into one bill. Bundling frequently includes phone (landline and/or wireless) service, Internet service, and TV service. Consumers can choose bundles that include all of these services or a selection of these services.
Service providers created bundling:

To encourage customers to buy all three services by allowing them to save money on each individual service.
To encourage customers to stick with a single service provider for all services
Most major service providers for Internet & Phone (http://internet.serviceproviders.biz) offer bundling service. But bundling may not always be the best way to save money as service providers will sometimes set very low starting prices and then increase prices dramatically later.
Cable companies can provide Internet and phone service in addition to TV service, so customers won't ever see a cable company offering a bundle in partnership with another company. In some cases they may be the less expensive option.
To learn more about SolveForce Internet & Phone Bundle (http://solveforce.com/services/) services, visit SolveForce.com.
About SolveForce
We are committed to a customers company in every aspect of the customer relationship. If a customers company needs to contact us for any reason, please don't hesitate to call or email us at the earliest convenience.
By Phone: (888) 765-8301
By Email: ron(at)SolveForce (dot)com
By Website: http://www.SolveForce.com