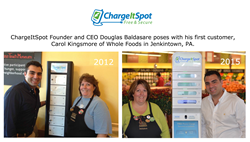 Cell phone charging stations are a rapidly growing space and we're thrilled to have been able to save one million people from a dying phone - Douglas Baldasare, CEO of ChargeItSpot
Philadelphia, PA (PRWEB) March 18, 2015
ChargeItSpot recently announced that its phone charging stations have delivered their one-millionth charge. Phone charging kiosks are emerging as a fast-growing segment of the retail tech industry with ChargeItSpot positioning itself as the leading provider of secure, high tech charging stations.
"We're incredibly excited to announce this major milestone," said ChargeItSpot CEO and founder Douglas Baldasare. "Cell phone charging stations are a rapidly growing space and we're thrilled to have been able to save one million people from a dying phone."
The Philadelphia-based startup has seen incredible growth since its launch out of The Wharton School incubator in the summer of 2012. ChargeItSpot has raised over $3 million in capital and its secure charging kiosks have been adopted by 120 retail locations across 11 states including Whole Foods, Urban Outfitters, Bergdorf Goodman, Belk and Five Below.
ChargeItSpot attributes its growth to the ROI its charging stations provide for retailers. Market research firm GfK gathered data on hundreds of retail shoppers and concluded that customers who charge their phone with the in-store cell phone charging station more than doubled their shop time and spent 29% more at the register. "Our mission is to provide retail customers with a free and secure phone recharge whenever they need it and to deliver an easy ROI for our retail clients," explains Jeffrey Bergeland, Director of Client Success.
Indeed, forty percent of charging kiosk users return to charge their phone again. The charging stations effectively double as an innovative mobile marketing platform that can collect multiple CRM currencies and send an SMS call-to-action, engaging customers in a unique way. Providing complimentary phone charging for the increasingly smartphone-dependent customer is turning ChargeItSpot into a game changer in the world of retail technology and digital media.
About ChargeItSpot
ChargeItSpot is the leader in secure phone charging stations in retail establishments. Each kiosk has a touchscreen unit with eight secure compartments. The unit is fully customizable and is compatible with all smartphones. The company also has a mobile app that notifies users when their battery life is low and directs them to the nearest ChargeItSpot charging location.