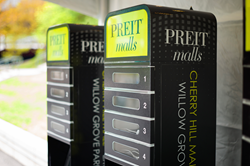 "Ensuring concertgoers have an unforgettable experience at the Mann continues to be our top priority and we are pleased to partner with PREIT and ChargeItSpot to bring this new service to customers," said Catherine M. Cahill, president/CEO of the Mann.
Philadelphia, PA (PRWEB) May 12, 2016
Philly startup ChargeItSpot (http://www.chargeitspot.com), the leading provider of phone charging stations, has expanded its partnership with shopping mall operator PREIT (Pennsylvania Real Estate Investment Trust). As a 2016 season sponsor of the Mann Center for the Performing Arts, PREIT teamed up with ChargeItSpot - already present in 10 PREIT-owned malls - to promote its brand in an innovative way. PREIT will be featured prominently on the external kiosk wrap, digital touchscreen interface and via SMS messaging sent to customers who charge their phones during concerts.
"As a company with strong roots in the Philadelphia region, it just made sense for PREIT to sponsor the Mann, the city's favorite outdoor music venue," says Bil Ingraham, vice president, Property & Partnership Marketing for PREIT. "We are extending this popular free phone charging amenity found in our local malls to the entrance plaza at the Mann where concertgoers can stay connected by keeping their phones powered throughout every performance, allowing them to share their experience via social media."
A much-needed amenity, charging stations boost satisfaction and loyalty by alleviating the fear of a dying phone battery, a major pain point for today's consumers and concertgoers. The PREIT Charging Station at the Mann will feature six complimentary charging kiosks with eight charging compartments per unit (48 charging lockers in total).
"Ensuring concertgoers have an unforgettable experience at the Mann continues to be our top priority and we are pleased to partner with PREIT and ChargeItSpot to bring this new service to customers," said Catherine M. Cahill, president and CEO of the Mann. "For many, the concert-going experience is enhanced by the use of smart phones to capture and share their experience. We believe allowing our patrons to be 'powered-up' will be a valued and appreciated amenity."
As modern consumers grow increasingly dependent on their phones, complimentary phone charging is becoming a must-have amenity at events across the country. ChargeItSpot kiosks have been placed at other events recently, including the Super Bowl, the GRAMMYs and the newly opened T-Mobile Arena in Las Vegas. Retailers like Neiman Marcus, Nordstrom, Bergdorf Goodman and Under Armour, as well as mall owners like PREIT and Westfield, have adopted ChargeItSpot phone charging stations to improve their customer experience. By leasing or sponsoring a charging station, companies and venues can enhance the customer experience all while increasing brand exposure, collecting opt-in data and boosting sales.
For more information about ChargeItSpot, visit ChargeItSpot.com. To request a quote for a charging unit at your venue, or to inquire about charging station sponsorship opportunities, email inquiries(at)chargeitspot.com.
About PREIT
PREIT (NYSE:PEI) is a publicly traded real estate investment trust specializing in the ownership and management of differentiated shopping malls. Headquartered in Philadelphia, Pennsylvania, the company owns and operates approximately 27 million square feet of retail space in the eastern half of the United States with concentration in the Mid-Atlantic region's top MSAs. Since 2012, the Company has driven a transformation guided by an emphasis on balance sheet strength, high-quality merchandising and disciplined capital expenditures. Additional information is available at http://www.preit.com, on Twitter or LinkedIn.
About the Mann
Celebrating 40 years as one of the most important outdoor music centers in the country, the Mann presents premiere artists in a world-class, entertainment destination in association with AEG Live. Each summer season, renowned symphony orchestras, iconic rock stars and the latest touring artists in indie rock, hip hop, R&B and pop take the stage here, and today's success is a nod to the venue's storied history. The Mann has been the summer home of The Philadelphia Orchestra since the 1930s and presented critically acclaimed performers in every decade since then. Located in the heart of Philadelphia's Fairmount Park, the Mann hosts more than 170,000 visitors annually. Signature concert experiences are surrounded by Philadelphia's stunning skyline and include seats beneath the Mann's acoustically acclaimed pavilion; picnics, blankets and music under the stars on its famous lawn; and dining in Crescendo, the venue's spectacular tented restaurant. For more information, visit http://www.manncenter.org.
About ChargeItSpot
Based in Philadelphia, and founded by Wharton graduate Douglas Baldasare, ChargeItSpot creates elegantly designed, fully customizable mobile phone charging kiosks. The stations feature an intuitive, user-friendly touchscreen interface, highly secure locking capability, promotional opportunities, customizable on-screen messages, and robust data tracking and reporting. ChargeItSpot also offers a mobile app that alerts users when their cell phone battery is running low and points them to the nearest ChargeItSpot kiosk. Clients include Neiman Marcus, Nordstrom, Under Armour, Bloomingdales, PREIT and others. Visit ChargeItSpot.com for more info or download the mobile app for kiosk locations.