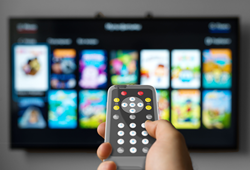 The World's First Universal TV and Garage Remote Control Phone Case
Southern Orange County, California (PRWEB) September 16, 2016
Looking for a TV remote and replacing a garage door opener is now a thing of the past. Because with PhoneMote all you have to do is flip over your cell phone with a PhoneMote case, aim it at the TV or garage door, and become the master of both
While there are phone apps that attempt to complete a similar job, those require logging into the app. PhoneMote is a much more convenient option that is within reach of the user at all times: just like their phone is.
In addition, certain models such as iPhones don't possess an Infra-Red blaster built in to control the TV or cable box, so users need to plug in a clunky IR dongle into the headphone jack. With PhoneMote, the user has no need for an app or any extra hardware as everything needed is installed within the case.
The product has a slick user interface that's extremely simple to use as well as being aesthetically pleasing. It will also be available in a range of colors to suit discerning smartphone users.
"Everyone at one time or another has lost their TV or cable box remote, so having one built into your phone is pretty convenient and cool," says PhoneMote Co-founder Scott Christie. "Not to mention, its pretty funny going to a friend's house or a Sports bar and being able to change the channel yourself, with the TV or Cable Box Auto Scan feature built into the PhoneMote. Plus as a bonus feature, we built into the PhoneMote a Universal Garage Door Opener. So for those people that forgot their house key, or just simply need another garage remote, PhoneMote is your solution."
PhoneMote is highly compatible with several smartphones, including those produced by Apple, Samsung, and LG. It also works with a range of Garage door brands, such as Chamberlain, LiftMaster, Craftsman, Genie Linear, Stanley and many more. It can even be used with most TVs: from Sony and Samsung to Vizio and Panasonic.
For the full list of compatible companies, check PhoneMote's http://www.PhoneMote.com
Media requiring additional details on this innovative new product should contact:
PR: Debbie Bellisime.
Info(at)PhoneMote(dot)com