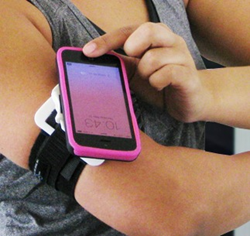 if a call comes in while you are wearing it, just press the release buttons to quickly and easily remove your phone from the armband. When the call is done, just slide your phone back on the armband until you hear the "click"
Lake Worth, FL (PRWEB) October 08, 2014
Today, October 8, 2014, is the official product launch of the new Phone Wear 360°™ device with armband. This isn't just another smart phone/mp3 player armband. Its revolutionary patent pending design is a game changer. The new Phone Wear 360°™ is a low profile, adjustable device that has an easy slide on, secure, lock and release design for use with smart phones or mp3 players. This design allows for easily taking the phone on and off the device while wearing it. Additionally, it allows full use of the phone/MP3 player while wearing it. Phone Wear 360°™ is totally unique with an 8 position, 360 degree device rotation allowing screen orientation anyway needed. With Phone Wear 360°™, just about any smart phone or MP3 player can be placed on the device. Additionally, products are available that are made to fit particular phones such as the iPhone 6, iPhone 5/5s, iPhone 4, iPod Touch, Samsung Galaxy S3, S4, and S5. For additional information visit http://www.phonewear360.com.
Background
About 2 and 1/2 years ago, the idea for the Phone Wear 360°™ product was first born in a dream by one of the founders of our company. A dream for a new product to make life a little bit easier for active people who want instant smart phone accessibility. Since nothing could be found on the current market to fulfill that need, it was thought that a great idea was discovered. After about 18 months of product design and development which included working with a CAD/CAM developer, a 3-D printing company to create prototypes, a plastic injection molding company, and lots of product testing, a new product was created. The Phone Wear 360° device is currently patent pending. The logo and brand name are also being registered with the United States Patent and Trademark Office (USPTO).
Who is it for?
Phone Wear 360°™ is great for people with active lifestyles or for people that just want to be mobile and connected. It can be worn while working out at the gym, bicycling, jogging, walking, or even shopping. It can be easily worn on the wrist, forearm, or upper arm and is great for listening to music while exercising as it allows full access to the music options available on the phone or mp3 player. When wearing the Phone Wear 360°™ device, just rotate the phone to view the screen. Browse music selections to find a favorite song or use a favorite music app. Going out? Shopping? Go hands-free. No more holding the phone, putting it in a pocket, or losing it in a purse. No more missed calls because the buried phone in a pocket or purse couldn't be heard or felt vibrating. And if a call comes in while wearing it, simply squeeze the tabs on the side and easily remove the phone from the device. When finished with the call, just slide the phone back on to the Phone Wear 360°™ device until the "click" is heard which indicates the phone is securely in place again on the device.
The Phone Wear 360°™ device is particularly ideal for people who operate their business from a smartphone while mobile. Incoming phone calls, texts, and e-mails can translate to potential profit for a business, so they cannot afford to be missed. The Phone Wear 360°™ device will have the phone as well as those important texts and e-mails instantly at their fingertips. And for those that use a phone's GPS application while driving, the GPS is right where it is needed most – on the wrist at the perfect angle to be seen (remember that 8 position 360° rotational capability). Your GPS can be right on the wrist in front of the steering wheel.
Phone Wear 360°™ is available in three sizes that allow a comfortable fit for just about anyone, from kids to large frame adults. Now no one has to miss that important call, text, app post, or e-mail. Phone Wear 360°™ ensures the phone is right where it is needed most to capture those memorable moments with a picture or video. For everyone who wants instant access to a phone or MP3 player anytime, anywhere, anyplace. Phone Wear 360°™ is the answer.
Get Phone Wear 360°™ today because it is "The Smart Way To Wear Your Phone. ™"
Phone Wear 360°™ is owned by GBJB Internet Holdings, LLC. All rights reserved.