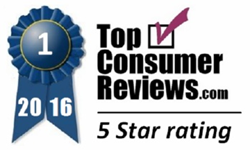 Mixbook makes it easy create photo books with flair... We're pleased to award Mixbook our highest ranking for online Photo Books in 2016.
Overland Park, KS (PRWEB) July 06, 2016
TopConsumerReviews.com recently awarded their highest five-star rating to Mixbook, an industry leader in Photo Books.
Before the age of digital cameras, making a professional-looking scrapbook or photo album was a long, laborious process. As digital photos became more popular, so did Photo Books. In just a matter of minutes, large numbers of photographs from a family vacation or other special occasion can be turned into a high-quality photo album that is a coffee table-worthy book of art. There are a number of online retailers who specialize in Photo Books, and prospective customers should look carefully at the available options, pricing for both the books and shipping, and the reputation of the retailers' customer service departments.
"Mixbook makes it easy create photo books with flair," explained Brian Dolezal, of TopConsumerReviews.com, LLC. "Of all the Photo Book retailers we reviewed, Mixbook had the most customizable fonts, designs, and options to allow users to make a photo album that is truly unique. Mixbook also makes it simple to upload photos from the most common sharing sites like Facebook, Flickr, Picasa, and Instagram, in addition to a traditional upload from files on a home computer. Photo books start at an affordable $6.99, and a 30-day customer satisfaction guarantee keeps customers happy. We're pleased to award Mixbook our highest ranking for online Photo Books in 2016."
To find out more about Mixbook and other online retailers of Photo Books, including reviews and comparison rankings, please visit the Photo Books category of TopConsumerReviews.com at http://www.topconsumerreviews.com/photo-books/.
About Mixbook
Mixbook is the most powerful design tool to create fully customizable photo products like books, cards, calendars and wall canvases. With Mixbook's free online editor, customers are not limited to static pre-designed templates, but rather have the freedom to edit to their heart's content. Mixbook dedicates itself to bringing users the best experience in creating professional quality photo products that truly reflect their vision for years to come. Mixbook was founded in 2006 and is headquartered in Palo Alto, California.
About TopConsumerReviews.com
TopConsumerReviews.com, LLC is a leading provider of independent reviews and rankings of hundreds of consumer products and services. From Photo Books to Canvas Prints and Home Security Systems, TopConsumerReviews.com delivers in-depth product evaluations in order to make purchasing decisions easier.