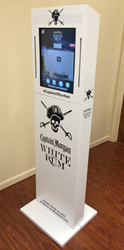 Islandia, NY (PRWEB) July 15, 2014
Social media photo booth kiosks are being shipped around the country recently as part of a marketing campaign for a new white rum by Captain Morgan. The photo booths were supplied by Social Shots, a company which specializes in social media photo booths for sale.
The photo booths allow people to take pictures of themselves which are then instantly shown branded inside a Captain Morgan White Rum frame. Other graphics can also be added with the easy to use interface in the photo booth.
Once pictures are taken, the images can be uploaded immediately to Facebook, Twitter or sent to cell phones via text message. Images can also be emailed.
"Everyone loves to have their picture taken when they are having a good time. What our photo booths do is capture those smiling faces and allow them to be instantly shared with the world. Those smiling faces, when attached to the brand, create a very organic brand advocacy platform for our clients," said Social Shots national sales manager Dennis Carrion.
The Social Shots social media photo booths also appeal to brands because of the units ability to harvest data. The photo booths can capture information like email and other contact information immediately. This type of permission-based data collection could allow for ongoing marketing initiatives to a targeted audience. "Knowing your audience makes it a lot easier to market to them. The more information we can deliver, the better the marketing experience will be for both the users and the brands we work with," says Dennis.
Setting up the photo booth kiosk is also easy to do.
"We are able to fully control the units as soon as they are online. This allows us to give our clients piece of mind knowing that regardless of the promotional team on site or whether they have any experience with the units, if they can follow a simple 3-step set up process, the unit will work flawlessly. The activation always works hassle free. That's part of the beauty," Mr. Carrion said.
Social Shots is looking for other brands who like the ability to immediately interact with users in a very substantial way, while extending the activations reach with the power of user generated social media buzz.
For more information on how to buy a photo booth, visit http://www.socialshots.com or call 800-707-5979.