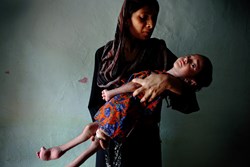 "We know that upfront funding is a barrier for many projects, hopefully, the Photocrati Fund can play a small role in changing that," says Erick Danzer, Founder and CEO of Photocrati
Boulder, Colo (PRWEB) October 10, 2013
Photocrati is pleased to name documentary photographer Alex Masi as the 2013 Photocrati Fund Fellow for his work documenting the long-term impact of the devastating 1984 gas leak in Bhopal, Madhya Pradesh (India). At the time of the accident, 4,000 deaths were confirmed. By 2006, more than 550,000 people had suffered injuries from the gas leak and subsequent soil and water contamination. Now, thousands of people, mostly poor, suffer from debilitating neurological disorders due to this environmental contamination.
With this grant, Masi intends to document the efforts of medical advocacy groups who work to improve the lives of "gas survivors" and to raise awareness about the plight of the people who suffer daily with little recourse for relief.
"I feel extremely honored for having been selected as the winner of the 2013 Photocrati Fund," Masi says. "It is with great pleasure and uttermost commitment that I will return to Bhopal, India, to continue reporting on the legacy of chemicals, pollution and illnesses left in the wake of the gas tragedy."
Photocrati Founder and CEO Erick Danzer is proud to have Masi as a new part of the Photocrati family. "Alex's work serves as a sobering reminder of the multi-generational human cost of environmental disasters."
The chance to fund projects such as this, Danzer says, is what the Photocrati Fund is all about. "We want to help enable great photographers to tell important stories. We know that upfront funding is a barrier for many projects; hopefully, the Photocrati Fund can play a small role in changing that."
Masi's project was selected from a competitive group of more than 400 applicants by the 2013 Photocrati Fund juror panel which included some of the world's premier environmental and humanitarian photographers: Jim Brandenburg, Michael "Nick" Nichols, and Steve McCurry.
Second Place goes to conservation photographer Ethan Welty for his ongoing project, Unprotected Cascades, an effort to create a comprehensive portfolio of the North Cascades, a stunning and bio-diverse region that is only partially protected with the 504,500-acre North Cascades National Park.
Third Place goes to documentary photographer Philippe Schneider. With dignity and compassion, humanitarian photographer Philippe Schneider reports on the complex issues surrounding the evicted slum dwellers of Paga Hill, Port Moresby (Papua New Guinea).
Fourth Place goes to humanitarian photographer Scott Typaldos who is documenting the difficult conditions and challenges facing patients with mental illnesses in Western Africa and Eastern Europe.
Honorable Mentions include: Allison Shelley, Not with a Bang; But a Whimper, Kiana Hayeri, The Day I Became a Woman; Marc Ellison, Pain at Sunrise, Regrets at Sunset; Sara Lewkowicz, A Portrait of Domestic Violence; Monique Jacques, Gaza's Girls; Sean Gallagher, Jakarta: The Sinking City; Fausto Podavini, Grand Ethiopian Renaissance Dam; Rafael Fabres, Pacification; Natisha Mallick, Living at the Edge of Life; Benjamin Cherry, The Importance of Natural Corridors
The Photocrati Fund, a $5000 grant to support an environmental or humanitarian photography project, is offered to one photographer each year. The aim is to invest in photographers who will have a long-term positive impact. Our goal is to identify outstanding photographers and to provide the resources necessary to pursue projects that will have a tangible and positive effect on the world. The 2014 Photocrati Fund competition will begin in January 2014 and will run through April 2014. For more details please see the Photocrati Fund webpage.
About Photocrati Media
Photocrati Media is the leading provider of WordPress solutions for photographers. Trusted on over 500,000 websites worldwide, the NextGEN Gallery WordPress Plugin and the Photocrati WordPress Theme help photographers build beautiful websites, manage their galleries, and sell images online. Photocrati also proudly sponsors the Photocrati Fund, a $5,000 annual grant to photographers working on important environmental and humanitarian projects.