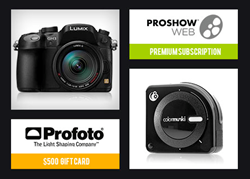 The Grand Prize for each search represents over $3000 in prizes.
Austin, TX (PRWEB) August 26, 2014
With the second part of the three-part contest well underway, the staff at Photodex and Skip Cohen University have been delighted with the quality of work being submitted. This second search runs until September 10, 2014 with the winner being announced on September 20. The theme for this new contest covers topics perfectly inline with summer travel and includes adventure, nature and landscape. Complete details on the search are on both the Photodex and SkipCohenUniversity sites.
The winner of the first search was Gareth Rockliffe. His winning video is posted YouTube and the Photodex site.
"Everything is changing with the tools photographers have to tell a story, especially with the combination of video and still images," commented Amanda Eddy, public relations manager for Photodex. "Photographers have the ability to tell a story with incredible impact and we want to recognize these artists."
Each quarter the search is on for great storytelling. The grand prize represents a value of over $3000 in prizes and includes a LUMIX GH3 with 20mm lens, a $500 gift certificate towards any Profoto Studio Lighting product, X-rite's Colormunki Photo the ultimate in color calibration equipment and software and a one year subscription to Photodex's ProShow Web.
"While the search is for the ultimate story, the sponsors of this project are each leaders in their area of expertise. The LUMIX line of cameras, Profoto's lighting, X-rite's color calibration products and Photodex's ProShow Web are all considered at the very top of their categories. Plus,our three judges represent some of the finest and most creative artists and educators in photography," commented Skip Cohen.
Judges for this second search include professional photographers and educators Bob Coates, Rob Knight and Sherron Sheppard. Each one is recognized for their creativity and skill set as a photographer, educator, artist and storyteller.
From slick iOS apps to robust desktop authoring software - Photodex makes products that empower consumers, photographers and creative types in any field to do more with their digital content. Their award-winning line of ProShow slideshow tools have helped millions of people across the world turn their photos and videos into compelling stories and shareable memories.
Founded in January, 2013, by photo industry executive Skip Cohen, SCU has become one of the leading educational resources for aspiring and working professional photographers. The site includes a daily blog, an amazing faculty of over fifty industry leaders, educational videos and guest posts from some of the finest artists in photography today.
For all the details on submission guidelines and to view some of the current entries visit the Photodex page for the Ultimate Story - Video Contest.
For more information on Photodex products contact Amanda Eddy, Amanda(at)photodex(dot)com or Skip Cohen, skip(at)mei500(dot)com, for information on Skip Cohen University.