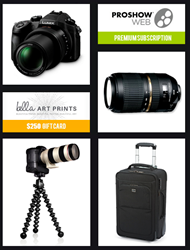 Technology is changing everything in imaging, especially the way photographers can promote their work.
Austin, TX and Sarasota, FL (PRWEB) March 18, 2015
Technology, especially with so many of today's cameras, has given photographers more creative tools than at any time in the almost 180 year history of photography. Virtually every photographer today has the ability to combine still images with video and two companies are focusing their efforts to help more professionals raise the bar on their skill set.
Photodex Corporation and Skip Cohen University have teamed up to build more resources for professional photographers to take advantage of hybrid solutions, the combining of photos and video into one finished product. Telling a story, especially when an artist takes advantage of both video and photography, becomes the latest in creative products photographers can offer their clients.
"We're kicking off our efforts with a focus on self-promotional videos," commented Amanda Eddy, Public Relations Manager for Photodex. "While the technology of combining video and photography itself isn't new, thanks to so many manufacturers, it's easy than ever to do and becomes one of the best ways for professional photographers to tell their own story by creating a self-promotional video."
This first contest for 2015 is all about self-promotional videos. The contest submission period is March 1 - May 1, 2015 with the grand prize winner to be announced on May 30, 2015. All entries must include a combination of still images and video.
The grand prize winner will walk away with the biggest prize the two companies have put together so far, thanks to the support of Panasonic LUMIX, Tamron USA, Marathon Press, LowePro, Joby, Photodex and Skip Cohen University. The grand prize includes winners choice of a LUMIX FZ1000 or LX100, a Tamron 70-300mm lens, $250 credit of Marathon's new Bella Art Prints, a Lowepro ProRoller X200 AW bag, a Joby Gorilla pod with ballhead, a year's subscription to ProShow Web Premium from Photodex and a full website review from Skip Cohen University.
"The Internet has changed everything in communication, especially the way we share images," said Skip Cohen. "Put that together with camera technology, and photographers have an incredible tool to promote their work."
About Photodex:
From slick iOS apps to robust desktop authoring software - Photodex makes products that empower consumers, photographers and creative types in any field to do more with their digital content. Their award-winning line of ProShow slideshow tools have helped millions of people across the world turn their photos and videos into compelling stories and shareable memories.
About Skip Cohen University:
Founded in January, 2013, by photo industry executive Skip Cohen, SCU has become one of the leading educational resources for aspiring and working professional photographers. The site includes a daily blog, an amazing faculty of over fifty industry leaders, educational videos and guest posts from some of the finest artists in photography today.
For all the details on submission guidelines and to view some of the current entries visit the Photodex page for the Ultimate Story - Video Contest.
For more information on Photodex products contact Amanda Eddy, Amanda(at)photodex(dot)com or Skip Cohen, skip(at)mei500(dot)com, for information on Skip Cohen University.