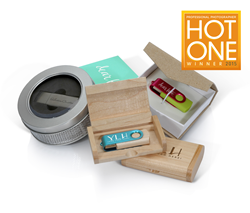 The Hot Ones recognize excellence in professional products as judged by the pros who use them.
Branford, CT (PRWEB) August 03, 2015
The annual Hot One Awards honor the hottest products for professional photographers. From hundreds of entries, a panel of judges—who are all professional photographers—name their top choice among dozens of photography products and services. The awards are highlighted in the August issue of Professional Photographer.
This year, judges for the 16th annual Hot One Awards chose Photoflashdrive.com's Studio Essentials DVD Replacement Kits as the top Packaging option in the industry.
This new Studio Essentials product line bundles customized 4GB Flash Drives and Packaging into multi-pack kits that replace DVDs as a way of presenting digital images or video to clients. Attractive, easy to load, branded with a studio logo and economical – these kits have proven to be a simple way for Photographers to make the switch from DVD image delivery to USB Flash Drives. Several styles were created to fit the different personalities and brands of Photographers.
"Being recognized by an Industry Leading publication such as Professional Photographer Magazine is a major point of validation for us as a company, and we are thrilled to accept the 2015 Hot One Award this year," said Brian Campbell, Photoflashdrive.com President. "We consider Studio Essentials a game changer for pro Photographers – allowing them to make an easy transition away from delivering digital images on clunky DVDs to the more branding friendly stylish Custom Flash Drives & Packaging Kits."
"The winners of the 2015 Hot One Awards represent the pros' choice of the year's photographic products," says Professional Photographer Senior Editor Joan Sherwood. "The Hot Ones recognize excellence in professional products as judged by the pros who use them. As talented as photographers can be, they still have to rely on their gear, software, professional services, and the products they sell. Their choices for the Hot Ones give our readers a list of worthy winners to consider for themselves."
The Hot One Awards have provided Professional Photographer readers with a resource of the newest, most innovative products available in a variety of price ranges. Readers are treated to a resource compiled by independent, practicing professional photographers, selected for their expertise and knowledge. This year's independent panel of 35 judges voted on products that ranged from cameras and lenses to albums and displays. They made their selections based on overall quality, innovation, design, performance, and value for the price.
For more than 100 years Professional Photographer, the official magazine of Professional Photographers of America, has helped readers advance careers in the photographic industry. No other magazine offers a more influential presentation of the people, trends, products, and photographs defining the portrait, wedding, and commercial photography landscapes. For Professional Photographer magazine subscription information and for a full list of Hot One winners, visit PPmag.com.
About Photoflashdrive.com
Established in 2009 as a Photographer focused division of Pexagon Technology – this Branford Connecticut based company has forged a stellar reputation in the Pro Photo industry over the past 6 years. Product development agility and an ear to the needs of its Pro Photo clientele have enabled Photoflashdrive to provide super fashionable and exclusive designs of USB Flash Drives and boutique packaging to Photographers all over the world. Customization of products without minimum orders or set up fees or additional costs has set the company apart from others in the industry. For more information,visit http://www.photoflashdrive.com .
About PPA:
Professional Photographers of America is the largest international non-profit association for professional photographers. Almost as long-lived as photography itself, PPA has roots back to 1869. It assists its 28,000 members through education and resources for their continued success in the industry. See why photographers love PPA at http://www.ppa.com.