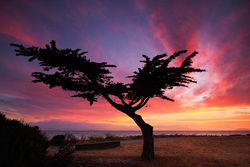 This recent technological development has pushed the boundaries of what a two-dimensional medium like photographic prints can achieve.
ALAMEDA, Calif. (PRWEB) December 31, 2018
California-based fine art photographer, Richard Wong, has just launched his latest venture, fineartphotographyprints.com. This site offers luxurious museum-quality fine art photography prints for art collectors, homes, hotels and offices. The prints consist of masterful renditions of fine art landscapes, nature abstracts and urban architecture scenes.
With today's fast-paced world of Instagram-fueled lifestyles, most photography is essentially forgotten within a few swipes of the phone. The only way to establish a lasting legacy is to create fine art photography prints. Using museum-grade print materials, a well-produced print can last hundreds of years if stored in proper conditions.
Wong has seen a lot of changes within the photography industry during his two decades as a photographer. That includes the way that artwork is presented. The traditional way to display a photo print would be to matte and frame the print. This is still a beautiful way to showcase photography but can be very costly to the art buyer after material and labor costs are involved. The latest in fine art printing techniques involves acrylic face mount prints.
Fineartphotographyprints.com offers exclusive limited-edition prints that are face mounted onto TruView acrylic glass. This recent technological development has pushed the boundaries of what a two-dimensional medium like photographic prints can achieve. These prints are truly the best available today and pop off the wall with 3d-like effects. Wong's limited-edition prints are limited to the small edition size of 25. Small edition sizes can increase the value of prints for collectors. Some photographers offer edition sizes in the hundreds and thousands but Wong feels that makes a mockery of the concept. Large edition sizes are basically no different from open edition prints. It's just a marketing tactic.
Adding value for art collectors and interior designers, Wong's limited-edition prints come with a signed Certificate of Authenticity. These COA's are affixed with a hologram tracking system to prevent the sale of unauthorized counterfeit artwork.
Artist Statement: Born and raised in California, photography initially was just a way for me to document my travels and share them with family and friends. It quickly became a creative outlet for me to express myself as I struggled to establish myself following college while also helping me to cope with my dad's terminal illness. Photography is equal parts art and therapy for me. While my photos might sometimes look beautiful, it is rarely my intent to showcase beauty for beauty's sake. Most of my favorite work seeks to relive specific memories and feelings from my youth. Some photographers scour the planet for the most remote locations possible but I choose to primarily focus on the California Coast, Yosemite and Canada because those are where the majority of my life's best memories are from.
Nearly 20 years later, my photography has been published in many different publications around the world. Print buyers include private collectors for home decor, corporate fine art buyers and art consultants for architectural design jobs.