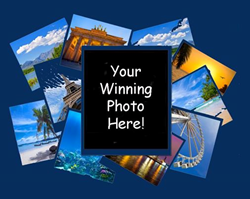 Life is not measured by the number of breaths we take but by the MOMENTS that take our breath away.
Kansas City, MO (PRWEB) July 31, 2014
A new photo contest with Cruise Dreams, the Cruise Professionals, is looking for a picture that is more than just a beautiful landscape, a romantic pose aboard a honeymoon cruise, a breathtaking sunset or a funny people pic. This time, the winning photo will commemorate a special family get-together, a memory of happier times, or a moment that tells a very special story of families or loved ones. The winning entry will be judged by a panel of Cruise Dreams employees and advisors and awarded a $500 Cruise Dreams Gift Certificate.
Founder and president of Cruise Dreams, Kim Gibbons, first started thinking about the contest when she heard of the passing of Maya Angelou, who said, " Life is not measured by the number of breaths we take but by the MOMENTS that take our breath away."
"I was in the midst of planning for my dad's 80th birthday and, as happens any time we have family get-togethers, I thought of my son Corey, who we lost 10 years ago this month," Gibbons said." I found myself going through family photos and the Photographs and Memories contest was born."
To enter the contest, both email and regular mail entries are accepted. Photographs are not returnable and sending a photograph signifies permission to use the photo and accompanying story on social media and in the next newsletter. Photos should have name, address, phone number and email and include WHY this photo is precious.
A short description of the family reunion, the special occasion or just a special moment that was captured- whether it was on a cruise, at a resort, a picnic, a beach or even a day at home. The important element is the meaning of the photo, whatever that is to the entrant. Send photos to Kim(at)cruisedreams(dot)com or mail them to Cruise Dreams, 4313 SW Sapelo Drive, Lee's Summit, MO 64082.
Clients who have already entered have told Cruise Dreams that so many of their best memories and photographs are on cruise vacations or resort trips that Cruise Dreams planned. One client mentioned the family reunion cruise planned by the agency that was the last time they were together with a family member, now gone.
"Travel has always been a part of my life," Gibbons remembers. Gibbons intent with this contest was to encourage everyone to look back through their photos, page through their memories, and in doing so, remind themselves of just how precious those moments are - and how precious loved ones are.
Gibbons adds, "My photos are almost as precious as the memories they invoke. An afternoon sorting through them sends me off to hug my family and friends and enjoy their company."
It's not necessary to be a Cruise Dreams client to enter, and photos don't need to represent a family cruise, or a honeymoon vacation or anything specifically travel oriented. Just tell them why this photo is so important.
$500 Cruise Dream Gift Certificate can be used only at Cruise Dreams for new bookings only on, towards final payment. Photos must be received by August 30, 2014 and winner announced September 15, 2014.
# # #
Cruise Dreams, a niche travel company, specializes in individual and group travel or cruises plus corporate incentive travel at sea or on land. Whether it is a cruise for two or two hundred, a full ship or partial ship charter or a stay at a5-star all-inclusive luxury property world-wide, Cruise Dreams is known for expertise, negotiating savvy, destination knowledge and exemplary customer service. For more information, visit http://www.cruisedreams.com or call 1-877-999-4533.