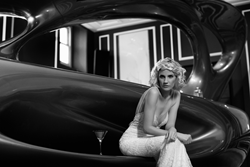 This is such an honour for me and really is a complete surprise. I was delighted to have five images shortlisted this year, but to win this category is a complete shock
Feering, Essex (PRWEB UK) 19 October 2016
Celebrating the Masters of Photography, the annual Master Photographers Association (MPA) Awards welcomed some of the greatest photography talents in a glittering awards ceremony on Sunday, 16 October 2016.
Bringing the photographic industry together, with unprecedented awards, the Master Photography Awards is the most anticipated event in the professional photographic calendar. Judges from across the globe selected a record number of nominees this year, which reflected the high standard of photography entered into the awards this year. The MPA annual awards celebrate the Masters of International Photography.
David won the UK Wedding Art Fashion category in the 2016/17 Master Photography Awards. David beat-off stiff competition to scoop his prize, with other leading photographers from across the UK and Overseas all striving for recognition in the awards.
Professional photographers from around the world were joined by representatives from the major photographic companies and trade, with other knowledgeable industry observers keenly attending the Awards ceremony, held at the Hinckley Island Hotel, 16th October 2016.
David Michael Photography was founded in 2004 and has become one of the UK's most successful photography providers. This year alone, David has won the Most Popular Photographer UK & Worldwide titles at the Wedding Industry Expert Awards (voted for by clients), as well as being the only Essex finalist in the UK Wedding Awards. However, this award has surprised David the most. He explained, "This is such an honour for me and really is a complete surprise. I was delighted to have five images shortlisted this year, but to win this category is a complete shock. It's all a bit of a blur!"
The Awards, run by the Master Photographers Association (The MPA), is one of the most prestigious within the photographic profession, both in the UK and Overseas. Membership of the Association is restricted to professional photographers who must qualify to the minimum required Licentiateship standard. The organization, a not for profit, exists to promote and maintain standards of photographic excellence within the photographic industry.
Clare Louise, CEO of the MPA comments: "The standard of photography we have seen this year is world class, and a privilege to judge. It was exciting to see new faces coming through and rewarding to see such great talent upholding previous years titles. With entrants both UK and worldwide, our winners really are the masters of their craft. It is an absolute honor to showcase imagery of such high standard and we are really proud to represent some of the best image makers globally."
For further information on David's work, please visit David Michael Photography [http://www.davidmichaelphotography.co.uk __title__ ] or call 01376 572326