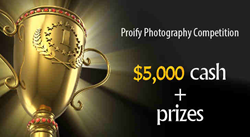 If you've always dreamt of becoming a recognized and respected professional photographer, the financial support and recognition of international awards like Proify can take your career to the next level
Los Angeles, CA (PRWEB) October 29, 2014
The Proify International Photo Awards, a yearly international amateur and enthusiast photography competition, is now officially open for entry. The contest, which is ideal for emerging photographers from around the world, features over $5,000 in prize money as well as Gold, Silver and Bronze awards.
As a spokesperson for the worldwide contest noted, Proify features eight unique categories, as well as prizes for category placements. People who enter photos in the contest will compete against those with similar skill levels. For those who love photography and are looking to gain some global exposure, the Proify competition is an outstanding way to do just that.
"If you've always dreamt of becoming a recognized and respected professional photographer, the financial support and recognition of international awards like Proify can take your career to the next level," the spokesperson for the competition explained, adding that with over $5,000 in cash up for grabs and multiple awards across a range of categories, Proify could be the first step in going pro.
"Or maybe you just want to grow and improve as a photographer, putting your work up for consideration against other non-professionals and students."
Entering the Proify competition is easy; photographers merely need to select their best work and which category it fits into. The photos will be judged by a panel of top photographers from around the world. In order to increase their chances of winning a cash prize, photographers may enter as many photos as they wish.
Anybody who earns less than 20,000 USD per year as a photographer is welcome to enter the contest. Minors may also enter, as long as they have permission from a parent or guardian to do so.
To learn more about the Proify International Photo Awards, budding photographers are welcome to visit the competition's website; there, they can read more about entry categories and rules, as well as enter the contest.
About Proify:
The Proify International Photo Awards is dedicated to emerging photographers all over the world. With over $5,000 cash, prizes and awards this enthusiast devoted photography competition provides a unique opportunity to earn credibility, funding and global exposure. For more information, please visit http://www.proify.com/