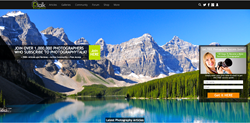 more than 1 million subscribers from 199 countries actively sharing ideas, inspiration and their unique passion for photography.
Santa Ana, California (PRWEB) August 20, 2013
Alex Schult, founder of PhotographyTalk.com, announced today a major upgrade of the Website, streamlining the look and adding even more resources to serve the growing demand of photographers worldwide for the information and knowledge to become better photographers.
Since its initial launch during late 2010, PhotographyTalk.com has become one of the world's premier online photography communities, with more than 1 million subscribers from 199 countries actively sharing ideas, inspiration and their unique passion for photography.
"Our mission evolves with our subscribers and what we've learned they want most are the learning and success tools to become better photographers," said Schult. "That's why we're proud of the latest evolution of our site. It delivers the resources that the thousands of photographers subscribing to PhotographyTalk every day need to shoot better photos."
"Another trend we are evolving to serve is the high level of unemployment around the globe. Many people are turning to photography as an opportunity to supplement their incomes or to find a new career. PhotographyTalk pledges to be there with the right resources to help these people develop the photography skills they need to succeed as a part-time or full-time professional."
Among the many enhancements to PhotographyTalk.com, subscribers and visitors are sure to appreciate the open layout design, revised Gallery, new photo uploader, improved search tool, new Forum layout, less advertisements and the powerful e-book, 30 Ways to Succeed as a Photographer.
"Central to the photography success of our subscribers has been the PhotographyTalk repository of more than 2,500 photography-related articles, how-to guides and equipment reviews, with more being added daily," said Schult. "Education and knowledge are critical to becoming a better photographer and PhotographyTalk.com is always striving to be the one place any photographer can find the resources and tools to succeed as they define it."
Schult added that the enhanced Website also features new mobile-friendly technologies, so photographers around the globe can readily access the site from wherever they live, travel or are shooting photos.
"With the unique peer-to-peer community we've created and the massive learning resource we offer, PhotographyTalk.com is a highly conducive environment for sharpening one's skills as a photographer," added Schult.
About PhotographyTalk.com – PhotographyTalk.com has grown to become the primary resource for more than 1 million beginners, enthusiasts, hobbyists, serious amateurs and professionals who want to become better photographers. Offering both free and subscription-based memberships, PhotographyTalk.com provides members with access to a large library of more than 2,500 articles written and curated according to the needs of its members. Members are able to improve their skills and shoot better photos, while sharing ideas and photos with photographers from around the world.