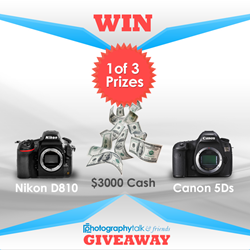 win either a Nikon D810 or Canon 5DS DSLR or $3,000 in cash.
Santa Ana, California (PRWEB) November 02, 2015
As Alex Schult, founder and president of PhotographyTalk.com, unequivocally states, "We're putting our money where our mouth is" for the Tell-A-Friend Contest on one of the world's most popular and content-rich photography Websites.
The Tell-A-Friend Contest provides every participant with three easy ways to enter and each includes extra entries to increase everyone's chance to win either a Nikon D810 or Canon 5DS DSLR or $3,000 in cash.
"PhotographyTalk also knows how important it is to give back and photographers, in particular, are very generous people," said Schult. "We added this important element to the Tell-A-Friend Contest with a $1,000 donation from PhotographyTalk to one of three charities and in the name of the winner: St. Jude's Children's Research Hospital, Toys for Tots or Make-A-Wish Foundation."
PhotographyTalk members and new visitors are invited to join the Tell-A-Friend Contest and earn these bonus entries:

Sign up for a free [PhotographyTalk account and receive 15 additional entries.
For each friend that registers for the contest through your referral link, you'll receive 10 additional entries.
Sign up for the PhotographyTalk Tips and Techniques Mastermind Newsletter and receive 5 additional entries.
For more information and to enter the PhotographyTalk Tell-A-Friend Contest, visit this link:
https://www.photographytalk.com/contest/tell-a-friend-contest.
About PhotographyTalk.com – PhotographyTalk.com has grown to become the primary resource for more than 2.7 million beginners, enthusiasts, hobbyists, serious amateurs and professionals worldwide who want to become better photographers. Offering both free and subscription-based memberships, PhotographyTalk.com provides members with access to an enormous library of thousands of articles written and curated according to the needs of its members as well as photography lessons, videos and guides. Members are able to improve their skills and shoot better photos while sharing ideas and photos with photographers from around the world through the PhotographyTalk Forum.