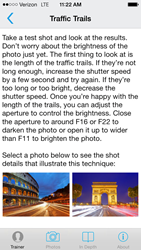 The most rewarding part of creating the app has been the feedback from users, everyone from aspiring professionals to soccer moms.
Tampa, FL (PRWEB) April 23, 2014
Photography Trainer by Trailblazer Media and Paul Timpa Photography has shown that mobile apps can be a key tool for learning photography. The mobile app for iOS and Android has passed 50,000 paid downloads, and new versions for both platforms have just been released.
"The positive response has been overwhelming", said Paul Timpa, creator of Photography Trainer and professional travel photographer. "I created the app based on how I teach students in my photography workshops." Mr. Timpa says that's the key to the app's popularity. Rather than just providing camera settings like many other photography apps, Photography Trainer's purpose is to teach its users how to think like a photographer. "Once you understand the thought process for taking better pictures, you don't need to be given camera settings. You'll know how to determine them on your own."
Mr. Timpa is especially excited about the latest release of the app for both iOS & Android. The iOS app now includes a dedicated iPad version with high-resolution images, as part of the version for iPhone and iPod touch. Android and iOS versions have new content, sleek new interfaces, and several enhancements based on user requests.
The app's three sections work together to provide an interactive educational experience for the user. The "Trainer" section asks the photographer a series of questions about the subject. As they answer, they read detailed information about the process of setting the shutter speed, aperture, and ISO based on the specific subject, lighting, time of day, desired look, etc. The "Photo Gallery" section contains dozens of professional photos with camera settings and the reasons why each of those settings were chosen. Lastly, the "In-Depth" section covers more detailed topics such HDR Photography, composition, and lens filters. One of the best parts about all this information being in an app is that it's always with photographers in their pockets, wherever they go with their camera.
The app's 50,000+ downloads are a testament to how useful Photography Trainer is to the photography community. Mr. Timpa states, "The most rewarding part of creating the app has been the feedback from users, everyone from aspiring professionals to soccer moms. It's been gratifying knowing so many people are taking better photos, some who say they've taken the photo of a lifetime."
Paul Timpa is a professional travel & architectural photographer based out of Tampa Bay, FL, and creator of Photography Trainer. Trailblazer Media is Mr. Timpa's corporate name.
App website: http://www.timpaphotography.com/photographytrainer
###