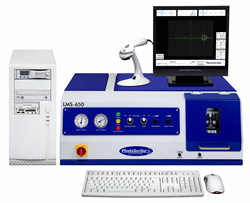 With the advances made in laser technology these new lasers have little resemblance in performance to their predecessors of just a few years ago.
New York, NY (PRWEB) February 29, 2016
In response to a growing demand for LMS Laser systems, the 193nm LMS-650 and 650XS have been upgraded by PhotoScribe Technologies to meet the diversified needs of medical device manufacturers. The lasers are capable of both invisible, frosted inscriptions on transparent, brittle surfaces, as well as providing high contrast marks along natural and man-made materials.
Unique identification numbers (UID) and symbols, such as barcodes, logos, and alphanumerics, can be used to mark or brand nearly any medical component. A PhotoScribe LMS-650 exclusive, the motorized aperture beam size adjustment on the lasers allow for varying thickness of inscription, providing greater control, alongside the ability to easily repeat marks across multiple devices.
Compact, the laser easily fits on any tabletop. The new precision stage marks at double the speed of previous lasers, while maintaining high-resolution marks. Micron accuracy is achieved through this upgraded stage.
Minimization of error is attained through a central controlled server, reducing operator error and moving the UID information to the laser, from a main server, confirming inscription to the server after execution.
For medical marking metals and plastics, laser inscriptions could be made without altering the structural integrity of the part. Catheter hole-drilling and skiving is machined cleanly using the LMS-650 for the use of diverting liquid flow. Biodegradable stents can be micro machined, surgical tools can be marked and drilled, and a growing field for the use of lasers is the manufacturing of implants of various types. Laser machining and micro molds are also used in micro part injection.
David Benderly, CEO of PhotoScribe, says, "Not all lasers are created equal. With the advances made in laser technology these new lasers have little resemblance in performance to their predecessors of just a few years ago. Utilizing the correct mixture of components along with the upgraded laser capabilities, engraving on difficult to mark substrates has become more accessible. It is crucial that all components are compatible in their performance and that the entire system is optimized for their specific task, whether it be marking on parts or in the creation of micro molds. In the highly demanding field of medical devices, our strength is in bringing complete solutions."
For more information about the LMS-650 and LMS-650XS lasers in medical device manufacturing, contact PhotoScribe directly at +1-212-819-0124 or use the contact form on the website. For press inquires, contact Olga Gonzalez at info(at)pietrapr(dot)com or call 212-913-9761.
About PhotoScribe Technologies:
Founded in 1998, PhotoScribe Technologies is based in New York, with offices in Minnesota and Germany. Global leader in the development of laser systems specializing in micro-marking, micro-manufacturing and micro-fabrication, PhotoScribe Technologies creates turnkey systems across medical, pharmaceutical, security, jewelry, packaging, and automotive industries, amongst others. Innovating solutions in customer laser development, the company has become the international "go to" for tailored solutions across the photonic, laser and "micro" spaces. PhotoScribe Technologies can be contacted via email at info(at)photoscribetech(dot)com or by calling 1-800-746-8672.