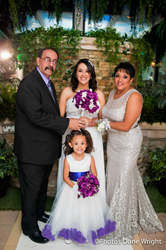 A couple's wedding day is one of the most magical days of their lives, and their wedding photos should capture the beautiful journey and the forever 'us' moments of that day.
East Brunswick, NJ (PRWEB) February 01, 2017
In the world of wedding photography, there are many common mistakes. "A couple's wedding day is one of the most magical days of their lives, and their wedding photos should capture the beautiful journey and the forever 'us' moments of that day," said Tamika Wright, photographer and owner of Photos Done Wright.
In order to help couples get the best wedding photos possible, Wright lists the following five tips:
No. 1: Consult with a professional photographer. "The bride and groom should meet with a photographer face to face for a consultation prior to booking the photographer," said Wright. "One of the main reasons is because the bride and groom should have a good working connection and feel comfortable enough to have that photographer photograph such an important moment in their lives." The photographer should be booked early, preferably 12 months in advance, to ensure couples get their first choice. "You will be surprised as to how quickly a photographer's calendar gets booked," added Wright.
No. 2: Schedule an engagement session. "This helps create a better connection between the bride and groom when it comes to taking couple's photos and increases the connection between them and the photographer," noted Wright.
No. 3: Discuss desired poses and must-have photographs. Couples need to be open about what photographs they want and don't want to take, i.e. intimacy photos, angles or examples found on Google. Desired photography style should also be discussed, such as traditional, vintage or even candid wedding photos. "Review 'key moment' photos that you want captured throughout your wedding day," stressed Wright. "Even discuss things such as your grandpa has a bad knee and can't stand long, which at least gives your photographer some headway in how to prepare."
No. 4: Prepare a realistic schedule. "Every bride and groom wants the sun and moon on their wedding day. But is it realistic?" asked Wright. "No. On paper things don't look as if they take much time, but they do. Plan for extra time for just about every aspect of your wedding day; from getting dressed and greeting your guests to speeches. That way you have enough time and don't look rushed or flustered in your photos. You want to be able to see your joy and happiness in your photos, not remembering how panicked you were because you didn't have time to take photos with uncle Rick."
No. 5: Just have fun. "It's your wedding day and you will remember every detail that happened, whether good or bad," concluded Wright. "Mishaps happen; trust us, we've seen it all, from traffic to weather to lost bouquets and even lost vows. But at the end of the day, none of that matters. You're celebrating a new beginning to a wonderful journey with someone you love. So let your photos help you highlight those unforgettable moments of your day."
About Photos Done Wright
Photos Done Wright is known to be the best wedding and portrait photographers in NY|NY|PA. To book your upcoming event or for more information contact us today: email info(at)photosdonewright(dot)com, call (732) 351-0465, or visit http://www.photosdonewright.com.
About the NALA™
The NALA offers small and medium-sized businesses effective ways to reach customers through new media. As a single-agency source, the NALA helps businesses flourish in their local community. The NALA's mission is to promote a business' relevant and newsworthy events and achievements, both online and through traditional media. For media inquiries, please call 805.650.6121, ext. 361.