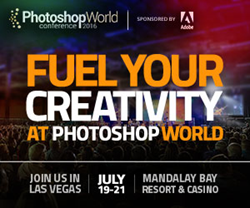 "PhotoshopFreaks, Lightroom fanatics, and the most passionate photographers, and designers on the planet all come together at the 2016 Photoshop World Conference."
Tampa, FL (PRWEB) March 15, 2016
Each year creative people from all walks of life come together for three days in Las Vegas to leave the world behind and totally immerse themselves in a Photoshop, design and Photography love-fest called "Photoshop World," which runs July 19-21, 2016 at the Mandalay Bay Convention Center in Las Vegas, Nevada.
The Photoshop World Conference (produced by online education community KelbyOne, and sponsored by Adobe Systems) brings together photographers, graphic designers, retouchers, illustrators, web creators, social media managers, bloggers, hobbyists, video editors, art directors, and people who use Adobe's amazing tools to create, excite, inspire, and communicate.
They learn in 7 different training tracks, with more than 80 sessions, covering everything from lighting to Lightroom, Photoshop to photography, inspiration to video, and you'll find everyone there from beginners to seasoned pros, soccer moms to commercial pros. They're all there to learn from an extraordinary roster of the world's most talented instructors who share their latest techniques, their insider tips, and their best-kept secrets to make the participants faster, more effective, and more creative than ever.
We know these learning opportunities are invaluable, and we also know that creative people learn best when they're having fun so, the conference has loads of networking events, parties, after hours sessions, meet ups, and get-togethers providing plenty of opportunities to unwind, make new friends, develop new relationships, and build connections. Plus, the whole thing kicks off with an exciting, high-energy opening keynote featuring the people who make it all happen in the first place — Adobe.
"Photoshop World isn't just another conference. Ask anyone who has been — there's a very special vibe to it, an energy — it recharges and renews your creative spirit and it starts when you arrive and it stays with you long after the event," said conference technical chair Scott Kelby. "People come here year after year to lose themselves in all this cool stuff and Photoshop is at the heart of it. No matter what you do, whether it's video or photography, design or blogging — this tool has changed our world. Now imagine what an entire conference would be like — filled with people who visually shape our world using that very tool — it's a life changing, career changing, totally energizing experience! That's a peek at what really makes Photoshop World rock!" Kelby added.
The goal has always been for the participants to come away learning more in these three days than they have in the last three years, and it's what powers the conference from start to finish. It's the "secret sauce" that has made Photoshop World a must-attend event for the worldwide creative community for 19 years straight.
Photoshop World attendance is open to everyone (though KelbyOne members receive a $100 discount on the full conference pass). For more info on Photoshop World, visit http://photoshopworld.com/
Hear what attendees say about Photoshop World: https://youtu.be/Ou5mgRPlt5s
About KelbyOne
We've created a smarter, faster, easier way to learn Photoshop, Lightroom and Photography online to help people create the type of images they've always dreamed of. An award-winning team of experts, authors, and world-class trainers, led by educational director and the world's #1 top selling photography techniques author Scott Kelby, guide the community keeping its members on the cutting edge of the latest techniques and technology. Visit http://www.kelbyone.com for more information.
Contact:
Kleber Stephenson
VP, KelbyOne
814-433-5000 x167
kleber(at)kelbymediagroup(dot)com