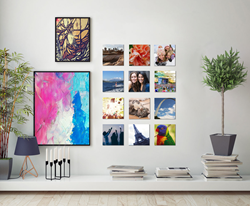 When you really want to make a lasting impression, a personalized gift speaks from the heart.
(PRWEB) February 03, 2017
Giving a gift from the heart can take a lot of time, effort and money, but with PhotoSquared, it doesn't HAVE to.
Sometimes it may seem a little overwhelming to pick out the perfect gift for a loved one. It needs to be special, something they'll treasure forever and think of you whenever they see it.
A personalized gift speaks from the heart and makes a lasting impression.
Popular personalized gifts range from jewelry to clothing to photos, even a favorite book signed by the author. Gifts can be etched, engraved, embroidered and more.
However, there's usually a catch associated with a personalized gift: it can be very expensive (especially jewelry), typically requires advanced planning, and may even have to be picked up at the store or delivered (and hope and pray it arrives on time and as ordered).
Thankfully, there's another way to melt their heart (without breaking the bank), with PhotoSquared!
These beautiful 8x8" photo squares capture special moments between loved ones, and can be further personalized in a variety of ways.
Here are a few tips to creatively make impressive photo displays:

Make it more sentimental and order black and white photo squares.
Create a display using a mix of materials (vacation photos with trinkets, shells or other souvenirs) to make a personalized display tug at heartstrings!
Use one of these apps to add their name, favorite song lyric or inspirational quote to photo squares before ordering.
Create a timeline, day by day, week by week, month by month or year by year. The best part? Just keep adding to it!
To top it all off, there's no need to plan ahead. PhotoSquared can be a last-minute gift that really looks like you poured your heart and soul into it. Order directly from an Apple or Android smartphone in mere minutes. Shipping is always free, and the squares will arrive within 3-5 business days of ordering.
Give something that they'll really cherish (and will never go out of style).
Nowadays almost anything can be bought with a photo on it, from magnets to tote bags to blankets and pillows. Trends and styles are constantly changing, and perhaps that woven blanket won't match their couch or décor. Even choosing a frame can be difficult. Low-profile, high-quality photo squares are classic, yet modern and will match any style.
Turn gift-giving into a picturesque event.
Combine personalized photo walls with framed art or statues, or fill a blank wall with a simple grid of photos. Get creative and do something romantic...maybe a steamy bubble bath by candlelight with champagne and roses, highlighted with sentimental PhotoSquares in the shape of a heart? (Easily arrange 12 squares into a heart shape, and since they stick to almost any surface with no nails required, move them later with ease.) Whether it's Valentine's Day or an anniversary, put love on display using the best photos!
K.I.S.S. them like you mean it!
Giving the gift of PhotoSquared is basically like giving them a kiss; it's personable and memorable! Use the K.I.S.S. acronym as well...Keep It Simple, Stupid! Seriously, there's nothing easier than downloading the app, choosing your favorite photos, and getting them delivered to your doorstep in just a few days. The results are amazing!