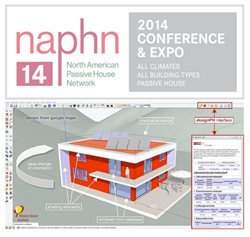 The Passive House Planning Package (PHPP) is among the most advanced energy modeling software in the world
Portland, ME (PRWEB) August 22, 2014
The North American Passive House Network is pleased to be supporting the release of an updated version of the PHPP and will showcase this software at an upcoming conference in Portland, Maine, on September 22-23, 2014. A special presentation and demonstration of this software, with the integrated use of DesignPH – a Sketchup plugin – is featured on the presentation schedule.
The translation work for this update was initiated by Albert Rooks of the Small Planet Workshop. He engaged Dylan Lammar of GreenHammer, Portland, Oregon, to work directly with the Passive House Institute to verify that all formulas remained functional and accurate in the conversion. Dylan will be giving a special presentation on this work, including the integration with DesignPH – a Sketchup plugin for PHPP – at the Portland, Maine, Conference.
"The Passive House Planning Package (PHPP) is among the most advanced energy modeling software in the world," says Mr. Rooks, "This humble, yet robust Excel spreadsheet develped by the Passivhaus Insititute in Germany has empowered the most energy efficient buidings in the world, including several thousand Passive House buildings to date."
The Small Planet Workshop is one of a growing number of Passive House Institute approved licensed re-sellers operating in North America. These also include 475 High Performance Building Supply and the Canadian Passive House Institute.
The PHPP has been updated a number of times since the 2007 version, most notably in 2012 to include an improved cooling algorithm for hot and humid climates. North American users have had to rely on the metric version of the updated software until now. This new IP release will allow those users to return to the comfort of familiar units with easier rule-of-thumb comparisons.