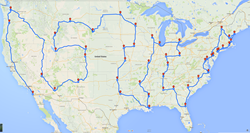 Knowledge is power, but financial knowledge is life changing.
Elizabeth, NJ (PRWEB) June 06, 2016
Phroogal, a financial education startup that empowers millennials to make better informed financial decisions, is hitting the road to get people talking about money and life goals. The Road to Financial Wellness tour will kick off in Elizabeth, NJ on June 7, 2016 and wrap up in San Diego on September 21. The epic 15,000 mile road trip will take the Phroogal team on a zig-zag across the country to visit 50 cities during the summer months.
The team will make stops in 50 cities along the way, spending the day speaking with local residents and millennials about their financial stories and will host events such as financial education seminars, workshops, coffeehouse discussions and impromptu street level interviews. Phroogal will hold events at various locations around the country taking place in coworking spaces, libraries and community centers, colleges, bars and restaurants, and other unique venues.
"Knowledge is power but more specifically financial knowledge is life changing. Financial knowledge empowers people to achieve their goals and live their dream lifestyle," says Jason Vitug, CEO and founder of Phroogal. "We're back on the road to educate and inspire a generation through a conversation about money, and motivate them into action with the right set of information and tools."
The Road to Financial Wellness is a grassroots and social campaign to empower a generation to live their dream lifestyle through financial knowledge. It's mission is to break the social taboo about money and turn local money discussions into a national conversation on financial well-being. Phroogal's financial wellness events will connect local residents to social and local influencers, financial educators and experts.
"We are proud to be a national sponsor of the Road to Financial Wellness," says Doria Lavagnino, co-founder and president of CentSai, a new financial wellness community for millennials, based in Brooklyn, NY. "We also believe in the power of personal connections to help people manage their money." "Jason's grassroots efforts resonate with thousands of CentSai users who are seeking a better financial future," she adds.
The events will vary from one location to another, but each event will include inspirational stories from local residents, entrepreneurs and social influencers, discussions about money mindsets, and available financial resources, and include panel discussions and fireside chats. Jason Vitug will headline the events sharing his personal financial story and elements from his new book, You Only Live Once: The Roadmap to Financial Wellness and a Purposeful Life (released on June 7, 2016, Wiley).
Attendees will have the opportunity to network, connect with experts, and engage with Jason Vitug and the Phroogal team.
Phroogal and The Road to Financial Wellness will be making stops in the following cities:
June 7: Elizabeth, NJ (Road trip kickoff)
June 8: Manhattan, New York City
June 9: Boston, MA
June 10: Portland, ME
June 11: Manchester, NH and Burlington, VT
June 12: Providence, RI and Stamford, CT
June 13: Washington, DC
June 14: Philadelphia, PA
June 15: Baltimore, MD
June 16: Norfolk, VA
June 21: Raleigh, NC
June 22: Columbia, SC
June 23: Jacksonville, FL
June 27: Birmingham, AL
June 28: Douglasville, GA
June 29: Atlanta, GA
June 30: Nashville, TN
July 1: Louisville, KY
July 2: Charleston, WV
July 5: Bryon and Defiance, OH
July 6: Columbus, OH
July 7: Detroit, MI
July 8: Chicago, IL
July 9: Indianapolis, IN
July 11: Madison, WI
July 12: St. Louis
July 13: Memphis, TN
July 14: Little Rock, AR and Jackson, MS
July 15: New Orleans, LA
July 19: Dallas, TX
July 20: Oklahoma City, OK
July 21: Topeka, KS
July 26: Omaha, NE
July 27: Des Moines, IA
July 28: Minneapolis, MN
July 30: Fargo, ND
August 2: Rapid City, SD
August 3: Billings, MT
August 4: Helena, MT
August 5: Missoula, MT
August 8: Idaho Falls, ID
August 9: Salt Lake City, UT
August 10: Cheyenne, WY
August 13: Denver, CO
August 16: Albuquerque, NM
August 18: Phoenix, AZ
August 23: Las Vegas, NV
August 25: Boise, ID
August 30: Seattle, WA
August 31: Portland, OR
September 6: Berkeley, CA
September 7: Menlo Park, CA
September 8: San Francisco, CA
September 13: Montebello, CA
September 14: Los Angeles, CA
September 15: Irvine, CA
September 21: San Diego, CA (final pit stop)
To learn more about Phroogal, visit http://www.phroogal.com/about. For full information about the events, please visit http://www.roadtofinancialwellness.com and be sure to follow Phroogal on Facebook, Twitter, Instagram and Snapchat with the hashtag #MySmileLifestyle #TheRoad2016
ABOUT PHROOGAL
Phroogal is a financial education startup and lifestyle brand offering millennials a platform to the best and simplest way to learn about money and make better informed financial decisions. Phroogal crowd sources, curates and creates personal finance information and stories. Phroogal is based in Elizabeth, NJ and was founded in 2014 by Jason Vitug, a millennial and social impact entrepreneur whose vision is to democratize financial knowledge to empower his generation to achieve their goals and live their dreams. Learn more http://www.phroogal.com
ABOUT CENTSAI
CentSai is a social-media platform focused on making financial education fun. Children, teenagers, women and millennials have their independent landing pages, rich with videos, articles, blogs, games and quizzes. Financial experts can join the platform and engage with adults, participate in Q&A and discussions surrounding questions on day-to-day financial issues including savings, loans and wealth management. Individuals or groups in financial and economic education can join our community. Learn more http://www.centsai.com
Other Website Links
Website: http://www.roadtofinancialwellness.com
Website: http://www.jasonvitug.com
###