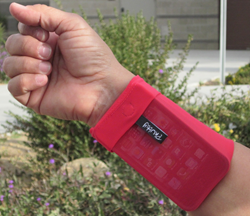 Phubby (pronounced, Fubby) Best Wrist Cellphone Holder has been a welcome addition to the recent Mesa Market Place
Phoenix, AZ (PRWEB) January 23, 2015
Nifty- Nifty.com, creators of innovative, one-of-a-kind fashion gadgets, just turned up the heat on Arizona's Mesa Market Place with the introduction of their Phubby Wrist Cellphone Cubby.
"Our Phubby (pronounced, Fubby) Best Wrist Cellphone Holder has been a welcome addition to the recent Mesa Market Place," declares Nifty-Nifty.com co-founder, Wendy Miller. "Visitors have been going crazy over this innovative, gender-neutral, cell phone carrier, often times buying one for themselves, as well as one for a friend."
Discover the Phubby by following this link:
*http://www.nifty-nifty.com/phubby-the-wrist-cubby-best-wrist-cellphone-holder/
Phubby the Wrist Cubby, by Nifty-Nifty.com, is the coolest, most convenient way to carry and access one's cell phone. Made of a stretchy, breathable fabric, the Phubby simply slips over one's hand and onto one's wrist in seconds, where it will stay securely all day, regardless of activity level.
Phubby's groundbreaking, see-through mesh, which is available in a variety of colors, allows wearers to utilize their Smartphone without needing to remove it from the Velcro-closure pocket. With Phubby Wrist Cellphone Cubby, consumers can make and answer calls, text, play music; you name it, directly through the unique material.
In addition to the inside wrist cell phone pocket, the Phubby boasts a second pocket, perfect for carrying one's keys, cash, credit cards or other small necessary items, comfortably and conveniently.
Whether playing sports, shopping, doing housework, attending school, hiking, cycling, or just hanging out, nothing beats Nifty-Nifty.com's Phubby Wrist Cellphone Holder for cell phone security and accessibility.
Visit the Mesa Market Place this winter, Fridays, Saturdays and Sundays, from 7a.m. to 4 p.m. and explore Nifty-Nifty.com's incredibly awesome Phubby Wrist Cellphone Holder, in person.
About Nifty-Nifty.com    
Nifty-Nifty.com caters to a diverse clientele from all over the globe. As the world's leading online retailer of innovative, versatile products, Nifty-Nifty.com specializes in nifty products such as Biker Purses, Phubby, Specs-in-a-Sec magnetic eyeglass holders, Cell-Fie HipBand Cellphone Holders and Cross Body Cell Phone Purses, among others. All products are offered at highly competitive prices with zero charge shipping in the USA and Canada.
http://www.Nifty-Nifty.com 
Tel. 858-248-2302