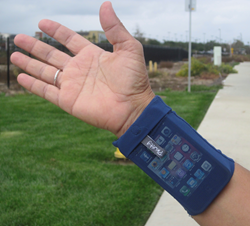 Let the Phubby love-fest begin! Order a Phubby (or two) and we'll will happily ship it to anywhere in the US, Canada, or abroad.
Athens, GA (PRWEB) April 16, 2014
As the weather warms and consumers head outdoors, they'll no doubt want to take along their cellphones and Nifty-Nifty.com has created an innovative way to make that extra easy; with Phubby the wrist cubby cellphone holder.
The Phubby is a wristband cell phone holder and wallet, which allows consumers to view and operate their cell phone right through the sheer, stretchy material. It's as simple as that.
For more information on the Phubby, go to: https://www.youtube.com/watch?v=NhM0-BMtE9s.
About the Phubby, the wrist cubby, wrist cell phone holder
Perfect for those with active lifestyles, the Phubby, which comes in a variety of colors, securely holds consumers' cell phones in place, while jogging, biking, fishing, shopping, you name it. And they're gender-neutral too, so both men and women can wear them comfortably.
About Nifty-Nifty.com
Nifty-Nifty.com is the world's leading online retailer of innovative, nifty products. The company specializes in online retailing of products such as the Specs In A Sec Magnetic Eyeglass Holders, Readerest, Phubby, Cell-Fie HipBand Cellphone Holder, Biker Purses, Cross Body Cell Phone Purses, Hip Klips and other innovative online products at the best prices with no charge shipping in the USA and Canada.
http://www.Nifty-Nifty.com
Tel: 858-248-2302