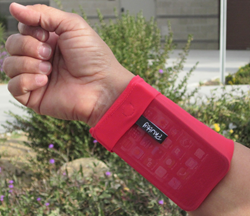 By wearing a comfortable Phubby (pronounced, Fubby), consumers will be able to access the Superbowl game instantly on their cell phone, keeping all the play by play action right at their fingertips, as they cheer on their favorite team
Atlanta, GA (PRWEB) January 27, 2015
Nifty-Nifty.com, creators of 'As Seen on TV', hands-free fashion accessories, encourages consumers to make this year's Superbowl super by sporting a Phubby Wrist Cellphone Holder, whether at the big game or elsewhere.
"By wearing a comfortable Phubby (pronounced, Fubby), consumers will be able to access the Superbowl game instantly on their cell phone, keeping all the play by play action right at their fingertips, as they cheer on their favorite team," states Nifty-Nifty.com co-founder, Wendy Miller. "Sports enthusiasts have always loved the convenience of our Phubby Wrist Cellphone Holder, and we're certain they'll love it even more during their Superbowl Sunday parties and excursions."
Check out Nifty-Nifty.com's Phubby Wrist Cellphone Holder (Phubby the wrist Cubby), here:
*http://www.nifty-nifty.com/phubby-the-wrist-cubby-best-wrist-cellphone-holder/
Phubby Wrist Cellphone Holder is a cool way to carry one's cell phone securely and stylishly while remaining hands-free. This wrist Smartphone holder, complete with two roomy pockets; one for cell phone, the other for small items such as wallet and keys, is simple to use and incredibly functional.
Never again need one worry about the safety of their cell phone, or missing a call – with Nifty-Nifty.com's Phubby Wrist Cellphone Cubby; the only wrist cell phone carrier that allows consumers to utilize their cellular device keypad right through the stretchy, breathable fabric - cell phone usage is a breeze.
Available in three sizes and several color options, including: Red, Black, Stone, Pink, Purple, and Camo, there's a Phubby Wrist Cellphone Cubby that's just right for everyone who leads an active lifestyle.
Get geared up for the big game and score a touchdown with Nifty-Nifty.com's incredibly user-friendly, uber trendy, Phubby the Wrist Cubby – The World's Best Wrist Cellphone Holder.
About Nifty-Nifty.com
Nifty-Nifty.com is the world's leading online retailer of innovative, nifty products. The company specializes in online retailing of products such as the Specs In A Sec Magnetic Eyeglass Holders, Phubby, Cell-Fie HipBand Cellphone Holder, Biker Purses, Cross Body Cell Phone Purses, and other innovative online products at the best prices with no charge shipping in the USA and Canada.
http://www.Nifty-Nifty.com
Tel: 858-248-2302