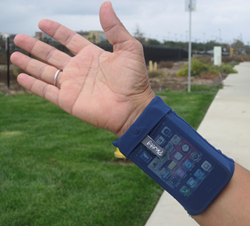 The word is out among convenience-loving football fans - Phubby wrist cellphone holder!
Little Rock, AK (PRWEB) November 18, 2014
Nifty-Nifty.com, creators of innovative, 'As Seen on TV' fashion gadgets, have recently noticed a spike in Phubby Wrist Cellphone Holder sales among consumers - the new demographic; football enthusiasts.
"It seems the word is out among convenience-loving football fans across the nation; the Phubby Wrist Cellphone Cubby (as its commonly called) is the ultimate way to carry one's cell phone on game day", asserts Nifty-Nifty.com co-founder, Wendy Miller. "An upsurge in numbers and first-hand fan testimonials both indicate a winning season for the Phubby!"
What is a Phubby? Click HERE to find out -
*http://www.nifty-nifty.com/phubby-the-wrist-cubby-best-wrist-cellphone-holder/
Nifty-Nifty.com's Phubby Wrist Cellphone Holder offers consumers a fun, fashionable and completely functional way to attend any game, small belongings safe and close at hand.
This mesh-fabric iPhone holder, available in three sizes, slips onto one's wrist in seconds, and stays put all day - assuring consumers will never miss a call or misplace their cell phone again.
The Phubby's roomy two pocket design allows consumers to not only carry their large Smartphone safely, but other pertinent items as well, including; cash, credit cards, keys, game tickets, receipts.
Best of all, one need not remove their cell phone from the Phubby Holder in order to utilize it. Answer calls, access keypad, select some tunes, all directly through Phubby Wrist Cellphone Holder's revolutionary, cell-friendly material.
Stop by Nifty-Nifty.com to check out all the Phubby color options, favorite team in mind, and consider buying two to prove true fandom!
About Nifty-Nifty.com 
Nifty-Nifty.com caters to a diverse clientele from all over the globe. As the world's leading online retailer of innovative, versatile products, Nifty-Nifty.com specializes in nifty products such as Biker Purses, Phubby, Specs-in-a-Sec magnetic eyeglass holders, Cell-Fie HipBand Cellphone Holders and Cross Body Cell Phone Purses, among others. All products are offered at highly competitive prices with zero charge shipping in the USA and Canada.
http://www.Nifty-Nifty.com 
Tel. 858-248-2302