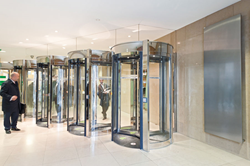 We'll be the only company offering an end-to-end solution addressing all access requirements, and the ability to install and service our products for the lifetime of the facility.
Reamstown, PA (PRWEB) April 04, 2017
dormakaba will unveil its line of Physical Access Systems at the International Security Convention in Las Vegas, NV April 5, 2017. The line includes; security revolving doors, personal interlocks, full height turnstiles, sensor barriers and tripod and waist height turnstiles to complement their extensive product and service offering.
"We have a deep line-up," says Dave Rogers, business development manager for the Physical Access Systems product group. "We are excited to be exhibiting our systems at ISC. We'll be the only company offering an end-to-end solution addressing all access requirements, and the ability to install and service our products for the lifetime of the facility."
Facilities requiring controlled access of authorized personnel to sensitive areas can rely on dormakaba's Security Revolving Door (SRD). The doors provide a practical and secure solution for any interior access point. The SRD Vision optical separation system accurately detect more than one person within a revolving door, then allows or denies passage as appropriate.
Full Height Turnstiles are recommended for securing the perimeter of buildings and property. Modular versions enable individual combinations of multiple units to accommodate bicycle doors, integrated doors, as well as emergency egress. The quiet low-energy drive offers push-assist which adapts to the speed of the person entering.
For further information:
Tasha Birdwell
Product Marketing Manager | ENS & IGS
T: 678-910-9758
tasha.birdwell(at)dormakaba(dot)com
dormakaba Group is one of the top three companies in the global market for access and security solutions. With strong brands such as Dorma and Kaba in our portfolio, we are a single source for products, solutions, and services related to doors and secure access to buildings and rooms. dormakaba is being represented globally in over 130 countries by its own activities and numerous cooperation partners. dormakaba Group is listed at the SIX Swiss Exchange, is headquartered in Rümlang (Zurich / Switzerland) and generated in financial year 2015/2016 with nearly 16,000 employees a turnover of over CHF 2.3 billion.
SIX Swiss Exchange: DOKA (formerly: KABN / KABNE)
Further information at http://www.dormakaba.us
Disclaimer
This communication contains certain forward-looking statements, e.g. statements using the words "believes", "assumes", "expects", or formulations of a similar kind. Such forward-looking statements are based on assumptions and expectations which the company believes to be well founded, but which could prove incorrect. They should be treated with appropriate caution because they naturally involve known and unknown risks, uncertainties and other factors which could mean that the actual results, financial situation, development or performance of the company or Group are materially different from those explicitly or implicitly assumed in these statements. Such factors include:

The general economic situation
Competition with other companies
The effects and risks of new technologies
The company's ongoing capital requirements
Financing costs
Delays in the integration of acquisitions
Changes in operating expenses
Fluctuations in exchange rates and raw materials prices
Attracting and retaining skilled employees
Political risks in countries where the company operates
Changes to the relevant legislation
Realization of synergies
Other factors named in this communication
If one or more of these risks, uncertainties or other factors should actually occur, or if one of the underlying assumptions or expectations proves incorrect, the consequences could be materially different from the assumed ones. In view of these risks, uncertainties and other factors, readers are cautioned not to place undue reliance on such forward-looking statements. The Company accepts no obligation to continue to report or update such forward looking statements or adjust them to future events or developments. The Company emphasizes that past results and performances cannot lead to conclusions about future results and performances. It should also be noted that interim results are not necessarily indicative of year-end results. Persons who are unsure about investing should consult an independent financial advisor.
This press release constitutes neither an offer to sell nor a call to buy securities of dormakaba in any legal system.
dormakaba®, Kaba®, DORMA®, Com-ID®, Ilco®, La Gard®, LEGIC®, SAFLOK®, Silca® etc. are registered brands of dormakaba Group. Country-specific requirements or business considerations may mean that not all dormakaba Group products and systems are available in all markets.