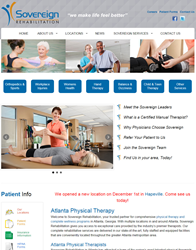 We are proud to extend our world-class physical therapy services to the residents of Hapeville. President - Alan Grodin, PT, MTC
Atlanta, GA (PRWEB) January 30, 2015
Sovereign Rehabilitation is proud to announce the opening of a new physical therapy center in Hapeville, GA. The state-of-the-art facility is conveniently located at 747 Virginia Avenue in Suite 200, just down the street from Delta and Porsche. The professionals of Sovereign Rehabilitation are committed to superior, patient-centered care using the latest technique and cutting-edge equipment available in the industry.
The members of Sovereign Rehabilitation form a team of highly skilled physical therapists who have each earned advanced qualifications in their respective areas of expertise. The new location will offer a full range of physical therapy services and specialized rehabilitation treatments for spine disorders, orthopedics & sports, upper-extremity conditions, women's health, and, work-related injuries. Sovereign Rehabilitation is experienced and equipped to serve children, teens and adults.
Whether patients are recovering from a sports-related injury, need help getting back to work after a workplace injury, need physical therapy during your pregnancy or more, Sovereign Rehabilitation works to develop and implement a comprehensive physical therapy program designed to accomplish physician's orders and patient goals.
Sovereign Rehabilitation is proud to extend its premier physical therapy and orthopedic services to Hapeville. The new location is one of seven facilities in the metropolitan Atlanta area. Sovereign Rehabilitation President, Alan Grodin, PT, MTC, is a nationally renowned, master clinician who is recognized as one of Atlanta's leading physical therapists. Alan is respected for his expertise in spine-related physical therapy. "We are proud to extend our world-class physical therapy services to the residents of Hapeville. It is our hope that our new facility will be a place this community can receive exceptional rehabilitation care from some of the most talented and respected physical therapists in the region, " says Alan.
About Sovereign Rehabilitation:
Sovereign Rehabilitation offers comprehensive physical therapy services delivered in state-of-the-art, fully staffed and equipped facilities that are conveniently located throughout the greater Atlanta metropolitan area. They strongly adhere to a mission to provide the most advanced physical rehabilitation services, with individual attention to patient needs. Sovereign Rehabilitation offers services including orthopedics and treatment for sports related injuries, treatment for workplace injuries, treatment for issues with balance and dizziness, complete hand therapy, treatments for a full range of women's health issues and other rehabilitative services. If you would like to get more information about physical therapy services offered by Sovereign Rehabilitation in Hapeville, please call (404) 565-2667 or visit their website at http://www.sovereignrehab.com/hapeville-physical-therapy.html.