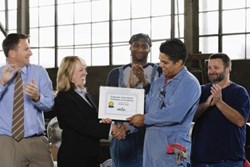 The integrated systems have the ability to ascertain the most productive staff members, track cash flow and monitor costs ranging from labor to cleaning supplies.
Denville, NJ (PRWEB) September 12, 2013
Chhoda said that the transition to an EMR can exacerbate existing problems, making them more difficult to alleviate. He further added that it is essential for practitioners to identify and document any problem areas of which they are aware of before using an electronic medical record system to analyze a practice.
EMRs comprises a variety of tools for helping therapists contract with the most lucrative reimbursement firms and locate drains on resources. Practitioners can use the new system to find potential opportunities and discover if they're exposing their practice to liabilities. If the system is integrated, it has the ability to ascertain the most productive staff members, track cash flow and monitor costs ranging from labor to cleaning supplies.
According to Chhoda, clinicians can realize up to a seventy-three percent return on their investment following the implementation of a physical therapy EMR. Practitioners will see cost savings throughout the clinic, increased patient numbers and faster turnaround on reimbursement claims. The patient portal in an EMR allows clinics to increase revenues by collecting funds online through debit and credit cards.
The Obamacare or Affordable Care Act mandating the use of EMRs is bringing practices into the 21st century. More than just elaborate and detailed patient and physical therapy documentation systems, EMRs contain all the necessary components to manage and streamline every facet of physical therapy clinics for greater efficiency and productivity.
For practice owners to remain financially viable, the new economy demands innovation and creativeness. Chhoda is committed to providing new information about EMRs to those in his profession that allows them to retain a competitive edge, improve cash flow and offer the most highly sought services.
Chhoda's office can be reached by phone at 201-535-4475. For more information, visit the website at http://www.emrnews.com.
About Nitin Chhoda
Nitin Chhoda PT, DPT is a licensed physical therapist, a certified strength and conditioning specialist and an entrepreneur. He is the author of "Physical Therapy Marketing For The New Economy" and "Marketing for Physical Therapy Clinics" and is a prolific speaker, writer and creator of products and systems to streamline medical billing and coding, electronic medical records, health care practice management and marketing to increase referrals. He has been featured in numerous industry magazines, major radio and broadcast media, and is the founder of Referral Ignition training systems and the annual Private Practice Summit. Chhoda speaks extensively throughout the U.S., Canada and Asia. He is also the creator of the Therapy Newsletter and Clinical Contact, both web-based services to help private practices improve communication with patients, delivery better quality of care and boost patient retention.