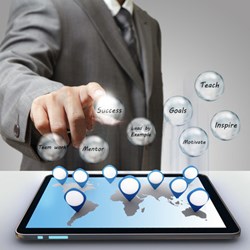 Practitioners should look for an EMR specifically developed for their type of practice and choose software from a company that's been in business for more than just a few years.
Denville, NJ (PRWEB) November 10, 2013
"The choice of physical therapy software that will reach into every facet of your business shouldn't be made lightly. It's a system that will be with the practice for many years to come. You'll want it to accomplish specific tasks, be affordable and easy for staff to use," said Chhoda.
He added that one of the primary advantages of an EMR system is its ability to manage billing, coding, claim submissions and collections for the financial health of the practice. A wealth of EMRs are available, some with minimal capabilities while others are fully integrated systems. EMRs run the gamut, from free, fully-functional software to those with limited abilities that costs thousands of dollars.
Chhoda named the following as the top attributes practitioners should seek in their EMR software.

Has real time adjudication;
Easy to learn with options for online training;
Can submit reimbursement claims electronically;
Maintains a record of patient balances;
Offers claim tracking;
Provides automatic backup of files;
Can print monthly reports if needed;
Has 24/7 tech support.
According to Chhoda, in an effort to comply with federally mandated physical therapy EMR implementation, many clinicians are tempted to choose the first system they examine. Practitioners should look for an EMR specifically developed for their type of practice and choose software from a company that's been in business for more than just a few years. Many EMR vendors have failed and customers have been stuck with obsolete systems with no hope of upgrades.
Vendors with a quality product shouldn't object to providing names of their happy customers. Contact some of their clients to discover the type of support and training that's offered.
Ascertain how quickly the system was functional and how easy it was for staff to learn its operation. Chhoda added that it's also helpful to consult with others in the field to learn which EMR they're using and if they're satisfied with its abilities.
Selecting an EMR that doesn't fit the needs and requirements of the individual practice is a recipe for disaster. Chhoda's new checklist offers practitioners the information they need to manage all aspects of the clinic's medical billing cycle for increased revenues that are delivered to the practice's account in record time.
Chhoda's office can be reached by phone at 201-535-4475. For more information, visit the website at http://www.emrnews.com.
About Nitin Chhoda
Nitin Chhoda PT, DPT is a licensed physical therapist, a certified strength and conditioning specialist and an entrepreneur. He is the author of "Physical Therapy Marketing For The New Economy" and "Marketing for Physical Therapy Clinics" and is a prolific speaker, writer and creator of products and systems to streamline medical billing and coding, electronic medical records, health care practice management and marketing to increase referrals. He has been featured in numerous industry magazines, major radio and broadcast media, and is the founder of Referral Ignition training systems and the annual Private Practice Summit. Chhoda speaks extensively throughout the U.S., Canada and Asia. He is also the creator of the Therapy Newsletter and Clinical Contact, both web-based services to help private practices improve communication with patients, delivery better quality of care and boost patient retention.