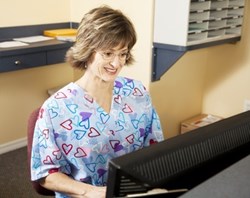 The ability to have staff in place when and where they're most needed reduces office wait times and increases the number of patients that can be seen.
Denville, NJ (PRWEB) November 04, 2013
"An EMR is the best option for overworked practitioners," said Chhoda. "The physical therapy software systems comprise all the tools needed to manage every facet of a clinic. They can be customized in a variety of ways, set to operate automatically, and accelerate every step of the patient treatment process."
Due to the major changes in the medical industry today, a large influx of new patients will be seeking care because of the different portions of the Affordable Health Care Act are implementing. An EMR is capable of managing those numbers easily and efficiently, from scheduling and documenting treatment options to collecting reimbursements. Automation allows practice owners to concentrate on other features of their business.
According to Chhoda, the EMR tools provide practitioners with valuable information to determine staffing requirements to address specific times of high need. The ability to have staff in place when and where they're most needed reduces office wait times and increases the number of patients that can be seen. As more revenues are generated, practitioners have the funds to hire additional staff to ease their overall workload.
Chhoda noted that physical therapy documentation is automatic and updated whenever patient records are accessed, eliminating the need for duplicate testing that delays treatment. Multiple providers can access records so they're always current on medications, treatments and ailments, another time saving measure for clinicians and clients.
He added that perhaps one of the greatest benefits of an EMR is its ability to effectively handle reimbursement claims and collections, tasks that require a significant amount of time. With an EMR, claims are submitted online for a quicker turnaround on payments and the systems offer multiple ways of contacting patients about balances owed.
The new information offered by Chhoda demonstrates some of the many ways in which an EMR can assist clinicians in creating more time to focus on key issues affecting their clinic. An integrated EMR efficiently handles scheduling, staffing, physical therapy billing, reimbursements and treatment documentation. Practices become more efficient and cost effective, providing clinicians with more time for marketing, recruiting new clients and enjoying the fruits of their labor.
Chhoda's office can be reached by phone at 201-535-4475. For more information, visit the website at http://www.emrnews.com.
About Nitin Chhoda
Nitin Chhoda PT, DPT is a licensed physical therapist, a certified strength and conditioning specialist and an entrepreneur. He is the author of "Physical Therapy Marketing For The New Economy" and "Marketing for Physical Therapy Clinics" and is a prolific speaker, writer and creator of products and systems to streamline medical billing and coding, electronic medical records, health care practice management and marketing to increase referrals. He has been featured in numerous industry magazines, major radio and broadcast media, and is the founder of Referral Ignition training systems and the annual Private Practice Summit. Chhoda speaks extensively throughout the U.S., Canada and Asia. He is also the creator of the Therapy Newsletter and Clinical Contact, both web-based services to help private practices improve communication with patients, delivery better quality of care and boost patient retention.