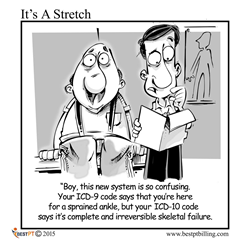 because of a huge increase in the number of codes, a simple one-to-one mapping between the old and the new codes does not exist
Clearwater, Florida (PRWEB) September 22, 2015
BestPT Billing and EHR Software helps their clients make a smooth transition to ICD-10. Their 5 part strategy called bestPT GEMs Plus ensures that Physical Therapists make the best ICD-10 code selection. bestPT's code selection tool remains effective beyond the transition helping practice owners to keep up with continuous changes inflicted by insurance companies. Click here to learn more.
According to Dr. Eldad De-Medonsa, bestPTs' President and PhD in Artificial Intelligence, the effects of the transition to ICD-10 will remain unknown for some time. "The only thing that is certain about the transition to ICD-10 is that insurance companies leverage its challenges and uncertainties to delay longer and underpay more insurance claims. Because of a huge increase in the number of codes, a simple one-to-one mapping between the old and the new codes does not exist, as demonstrated in the standard GEMs tool. We leverage the cloud, billing experts, and Artificial Intelligence to analyze millions of insurance claims and generate effective transition rules," says De-Medonsa.
Click here to learn more.
About BestPT and Billing Dynamix, LLC
BestPT by Billing Dynamix is a comprehensive cloud-based Physical Therapy Practice Management system that includes intuitive EMR, industry-leading billing, scheduling, and powerful yet simple workflow management. Save documentation time and keep legible and compliant documents. Automate claims and leverage over 2.5 million coding rules spanning 2,500 practice-years of experience. Reduce administrative overhead and foster staff teamwork. BestPT is the ONLY Physical Therapy clinic solution that reduces administrative time by 70% compared to industry averages – GUARANTEED. Complete practice management consulting and a rich array of integrated products and services round out bestPT product and service packages. Register for a private Demo+, and review our industry-leading guarantee at http://bestptbilling.com/