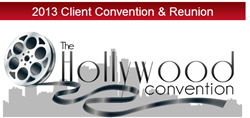 We were extremely honored to have received this prestigious award. We want to thank all of our patients and staff members for helping us reach 20 years!
(PRWEB) November 01, 2013
For their twenty years of excellence in patient service, Hands on Physical Therapy founders, Dr. Dimitrios Kostopoulos and Dr. Kostas Rizopoulos proudly accepted the "Exception Contribution Award" and the "Propserity Award-Platinum" on behalf of their team.
The Survival Strategies Annual Client Convention (otherwise known as "The Hollywood Convention") is a celebration of clients and their stellar year of achievements. Special recognitions were acknowledged during the Awards Ceremony on Banquet Night with an a cappella singing group, dinner, and dancing to a live band.
"Each year we hold an annual conference to bring Practice Owners together to network, strategize and give recognition to those owners who are truly assisting and expanding Private Practice," said Craig Ferreira, CEO of Survival Strategies.
"This year we gave special honor to Dr. Kostas Rizopolous and Dr. Dimitrios Kostopoulos, and their staff at Hands-On, to acknowledge their 20 years in business helping thousands of people improve their quality of life and teaching other healthcare professionals to do the same," said Ferreira.
The "Exception Contribution Award" was only given to 11 clinics, including Hands-On Physical Therapy, and recognizes private practice owners that go above and beyond in helping their fellow colleagues organize and expand their businesses and achieve success. Hands-On PT has created and presented Business Module Workshops like their Documentation and Compliance courses and their PR & Marketing Workshops through their sister company Hands-On Seminars. Hands-On PT has also been proactive with their blogging, where they provide information for patients and physicians that help their understanding of what PT can do for them.
The "Prosperity Award", for which Hands-On PT was awarded the Platinum award, recognizes superb achievement of 25% expansion in production maintained for 6 months.
"We are delighted with the relationship with SSI, which has helped us grow to unfathomable levels," said Dr Kostopoulos.
To find out more about Hands-On Seminars or to attend a seminar, please visit: handsonseminars.com or "Like" them on Facebook.
About Hands-On Seminars:
Hands-on Seminars is the leading continuing education organization with a purpose to provide the best quality Manual Therapy seminars at an affordable cost. Our instructor's unique teaching methods and the use of multimedia presentations exceed industry standards while enhance knowledge assimilation and create a pleasant learning environment. While we schedule several seminars in the U.S. and around the world, we also give the ability even to smaller facilities to sponsor one of our courses. Our goal is to provide you with the tools you need to meet the daily challenges of providing quality patient care. For more information, please visit: http://www.handsonseminars.com.